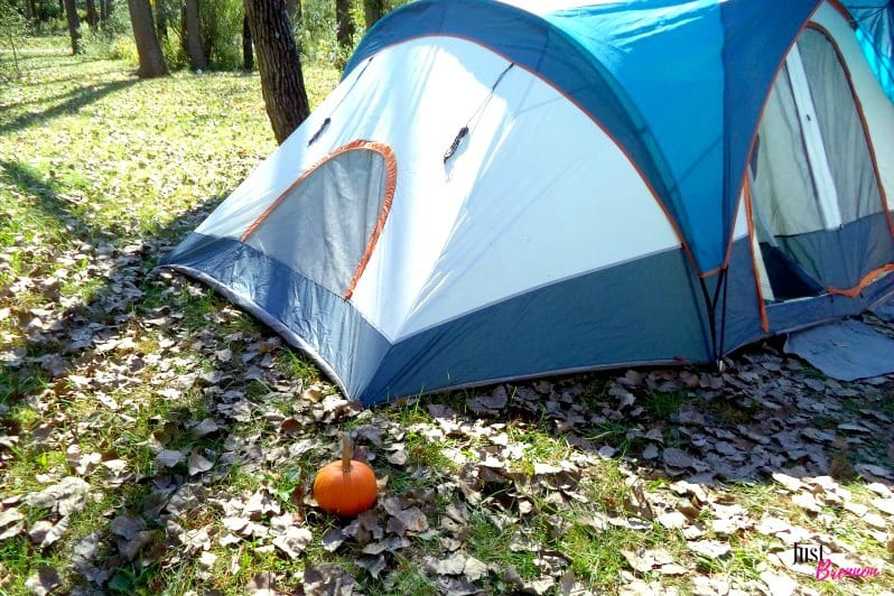 ​Now, that Christmas has come and gone my mind has reverted back to camping; especially, after gifting loved ones with camping goodies! And, since the weather is actually pretty decent, (ummm, higher temperatures than when we camped for Columbus Day weekend in October), we could actually head out to the campgrounds this week. So, if you are like me and ready to head out in the cool weather, here are a few tips for you to take with you.
Tip #1
Pack more than enough dry fire wood.
When we camp within our state line, we can bring our own fire wood, which is great because we can usually pick up a rick of wood for $20 and we are set for the weekend. If we happen to run low, we just head out into nature and gather what we can. But, I caution you, this can be frustrating and annoying since the weather is cool and sometimes damp. Damp wood will be next to impossible to start a fire with. So, take more than enough dry wood to keep the fire going and keep you warm.However, if you are camping out of your state, it is likely that you will not be allowed to bring in fire wood, so you will have to purchase your wood within that state, which could add up. For about two logs cut into eight pieces, you are looking to spend about $5. And, if those eight logs only last about 2 hours, you are going to have a hefty, fire wood bill. So, please, plan accordingly.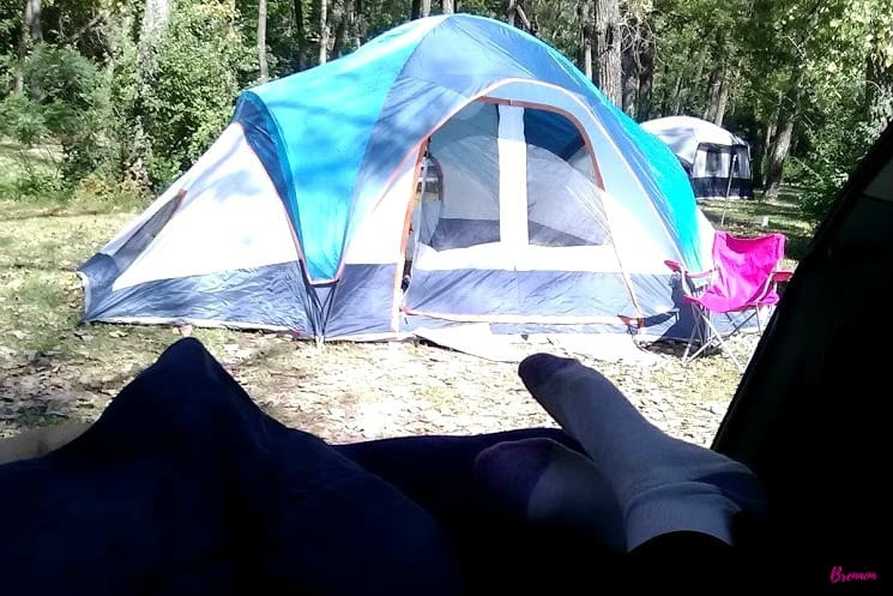 Plan meals according to the weather and your budget.
I don't know about you, but hot dogs just don't cut it for me on a cool or cold camping night. However, budget friendly, hefty meals like chili-cheese potatoes fill us up and can be made for under $5 for a family! That's right.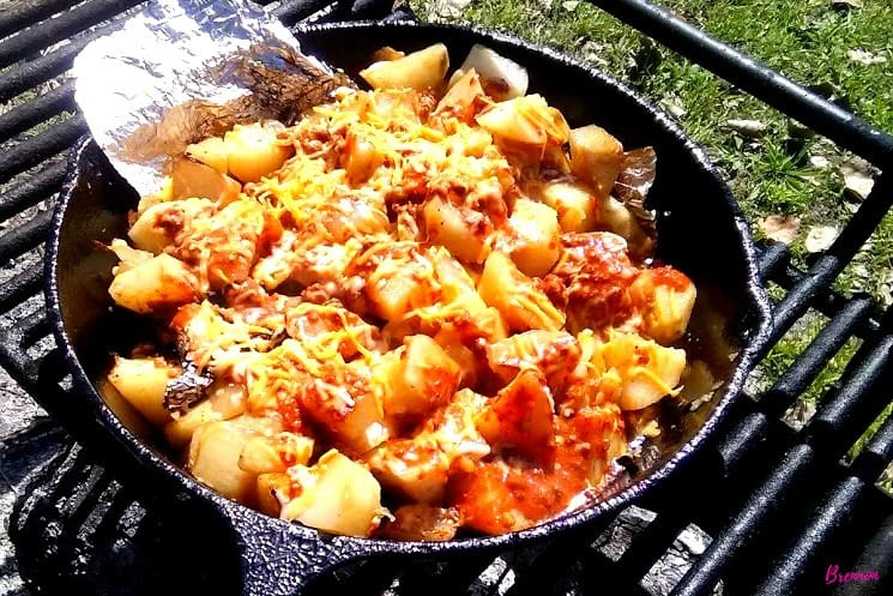 Here's a quick recipe:
​
$5 Chili Cheese Potatoes
1 5lb bag of potatoes (peeled, cleaned, and cubed)
½  bag of shredded cheese
1 onion diced
1 can of chili with no beans
Line cast iron skillet with foil. Add potatoes and onions. Cook on fire until potatoes are tender. Add chili. Continue to cook for 5-7 minutes. Add cheese to melt. Serve.
How easy, right?!

Pack warm gear + an extra change of clothes.
I cannot stress enough how crucial it is to have a warm hat and warm socks, especially when night fall hits. Clothing to consider bringing include extra shirts, pants, boots, shoes, jackets, blankets, etc. But, most importantly,  I feel you should have coverage for your head, feet, and hands.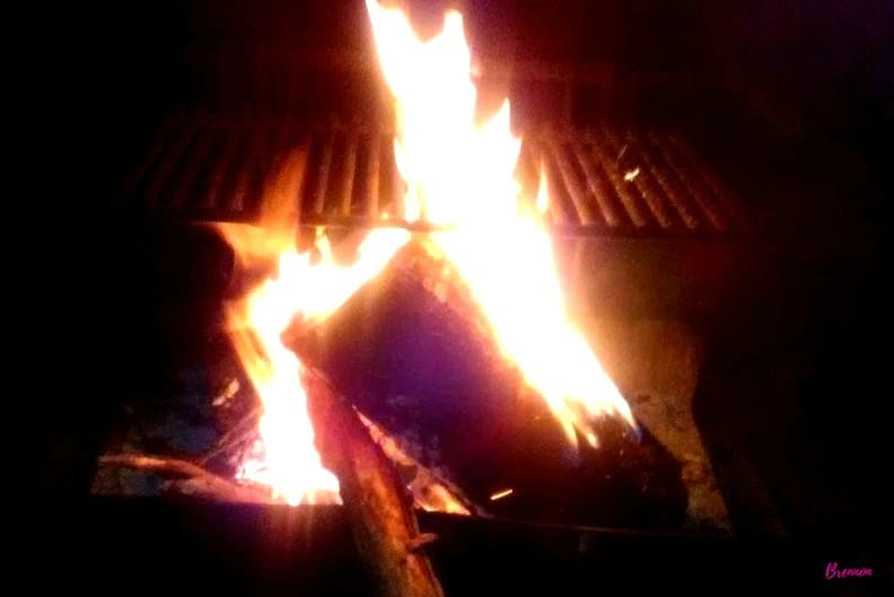 Rotate shifts to keep the fire going throughout the night.
I know. I know. You want to sleep. But, you also want to stay warm and have a memorable experience. So, assign campers shifts to keep the fire going throughout the night. We usually switch every two hours. By the time everyone takes a shift, the sun is coming up and it's time to start breakfast on the fire!
How about another budget, friendly easy recipe?! 
​
$5 Breakfast Omelet Sandwiches
1 dozen eggs
½ bag of shredded cheese
1 pack of slider buns
Optional: meat, veggies, spices
Simply, spray a muffin pan with non-stick spray. Crack one egg in each cup. Add cheese, meat, veggies and/or spices. Cook over the fire for about 7 minutes. Remove from fire and add slider bun. Viola! I mean how easy is that?!
Oh, and don't forget the coffee! I use bottled water and coffee instant singles in a ceramic mug… right on the fire!
Tip #5
Pre-plan activities.
Whether it is fishing, playing board games, hiking a trail, or just lounging; know what you plan to do when you are out there. There is nothing worse than going camping unprepared and not knowing what your activities will be once you are out there. One hour can easily seem like an eternity. LOL.
​So, what are you waiting for? Get to planning out your cold weather camping trip!
Cheers!
​I'll see you out there!
Last updated 5/22/17.