This post and contains affiliate links to products mentioned.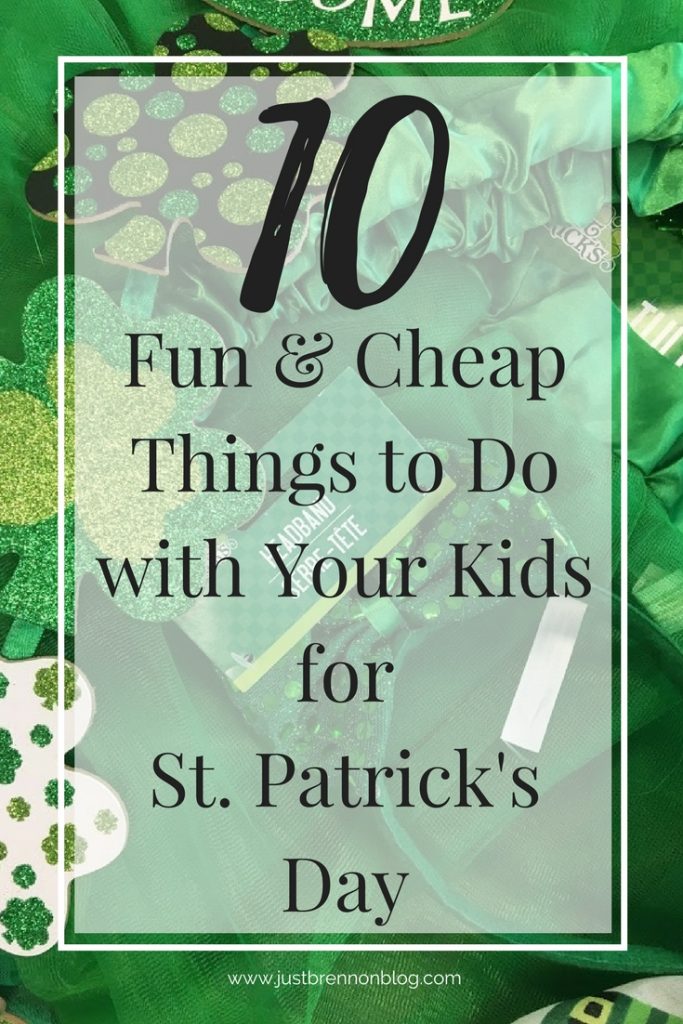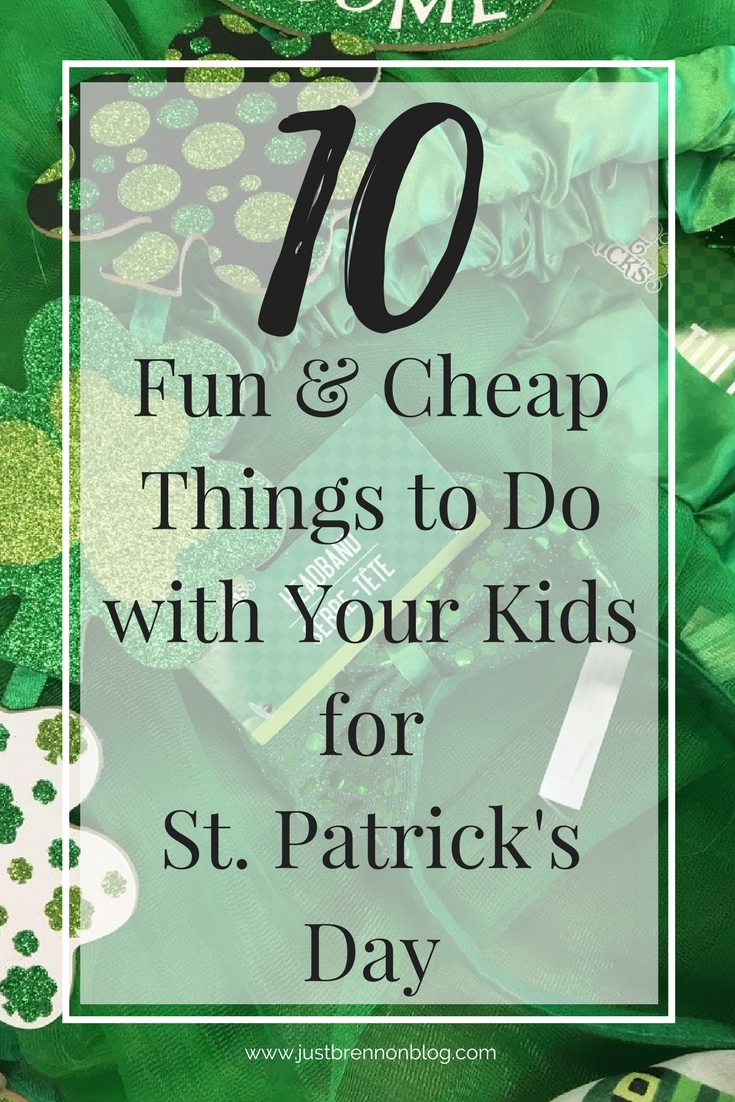 St. Patrick's Day is Saturday, March 17, 2018. Is anyone struggling to decide if they should jump on the St. Patrick's Day wagon? Well, I'm not. I've already decided to participate.
Here's why.
Most of your school-aged children will be participating in some type of St.Patrick's Day activity at school, whether it be a St. Patrick's Day worksheet, St. Patrick's Day coloring sheet, or something else.
There will also be parents who can be a little "extra" like me (or, my friend Jen) who will create a whole, "How to Catch a Leprechaun" scene in their house just for fun and giggles. Hahaha!
As a matter of fact, I read that book standing in Walmart this morning, put it in my cart, wheeled around the whole store and decided to put it back because I didn't know if my SIL already got it for my nieces or not (because they really are part Irish).
Anywho, back to my friend my friend Jen. This lady is super creative and talented. She has three boys and would always tell me all the cool things she did to make their days super special such as making them birthday pancakes in various colors before school!
Geez, how early did she get up to do this? Hahaha!
Anyway, St. Patrick's Day is one of her favorites! So, she shared with me a few of her favorite things to do for to St. Patrick's Day that I actually adopted and tweaked for my own boys (a few years ago, and each year afterwards) that I am going to share with you today!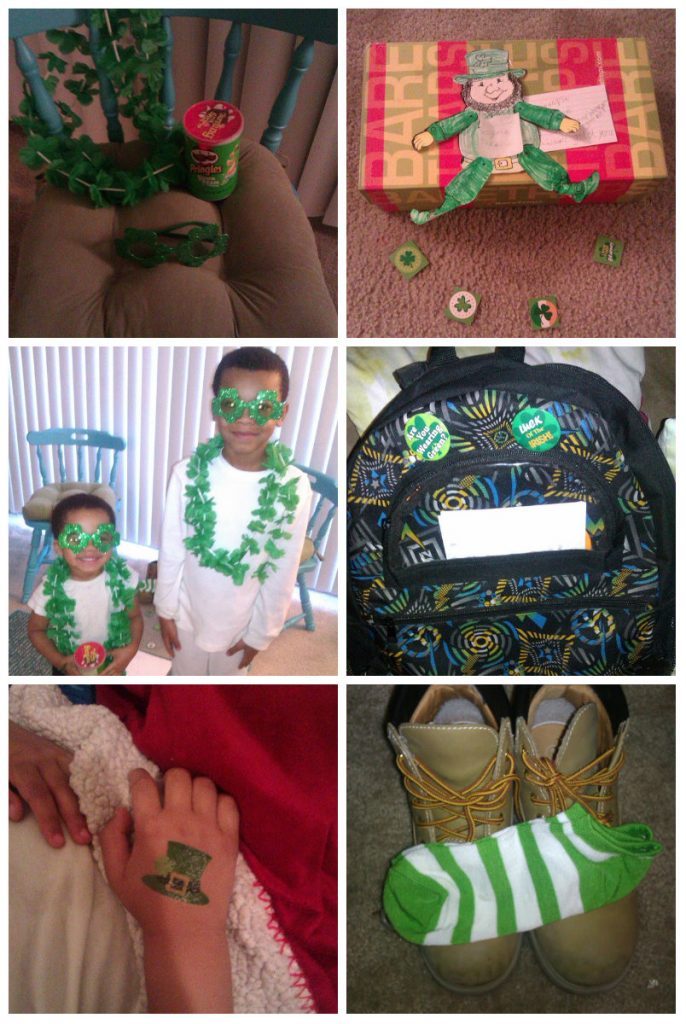 But, first a Public Service Announcement!
Don't be the parent that sends their child(ren) to school on Monday without a fun "Leprechaun Takeover" story, especially if YOU failed with the Elf on the Shelf during Christmas.
Sorry, I didn't mean to burst your bubble. Moving on.
Below, I have summarized a few of my favorite, fun, and cheap things I've done with the boys over the past few years for St. Patrick's Day. You'll also find some old photos throughout this post because I want you to know that I'd never tell you to do something I haven't done before, or plan to do!
10 Fun & Cheap Things to Do
with Your Kids for St. Patrick's Day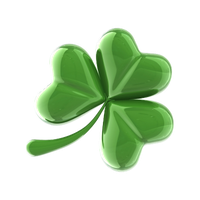 1) Buy St. Patrick's Day tattoos and quietly and slowly put them on your children while they are sleep the night before. When they wake up, tell them the Leprechaun did it!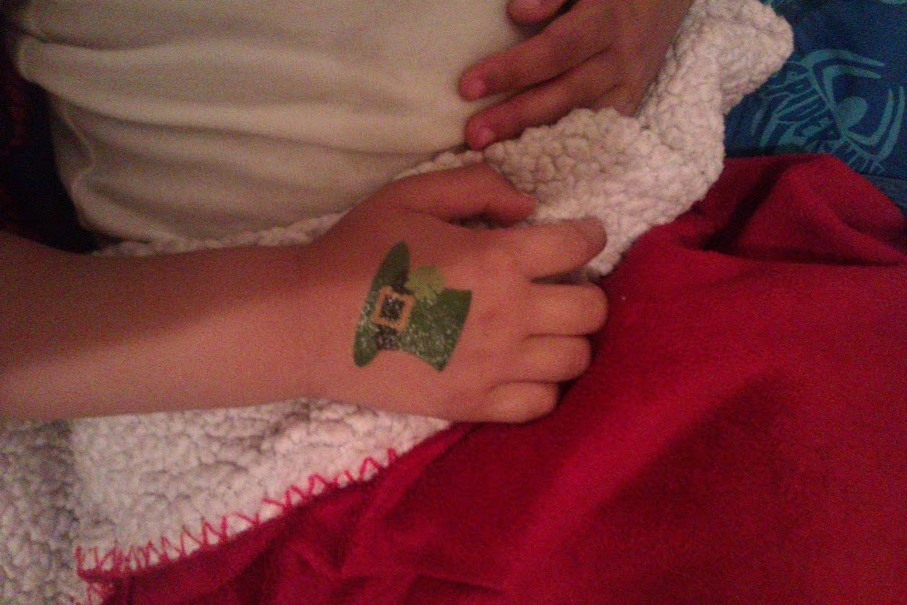 2) Create a "How to Catch a Leprechaun" scene in your home such as putting green food coloring in the toilet the night before, writing on the mirror, and placing four-leaf clovers throughout your home. You can create the scene yourself, or let the children join in and play.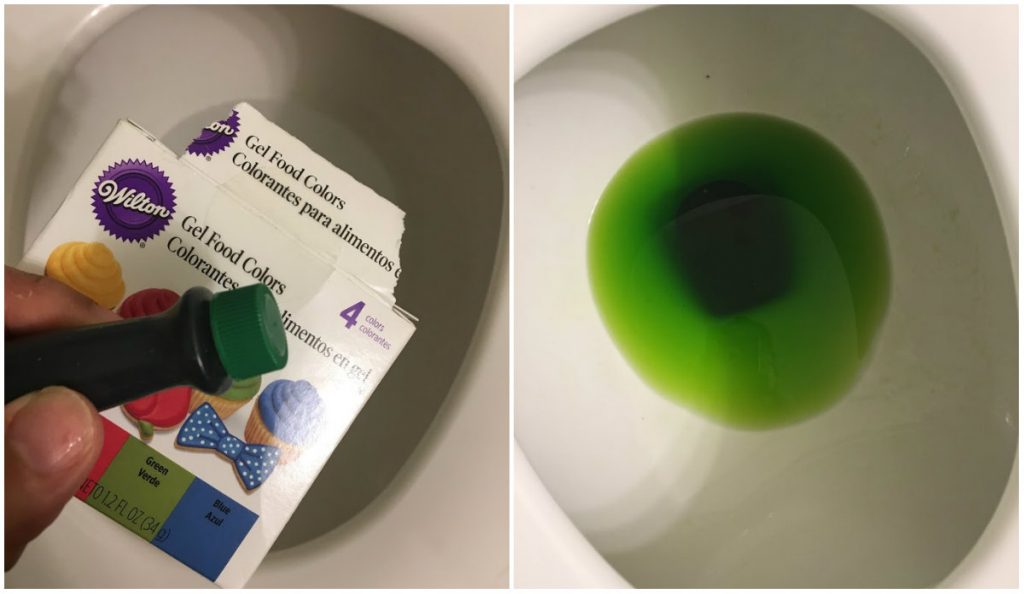 3) Build an at-home Leprechaun trap using ideas from Pinterest. By the way, throw perfection out the window and focus on the fun! We put socks in a box! Hahahaha! Keep it fun and affordable!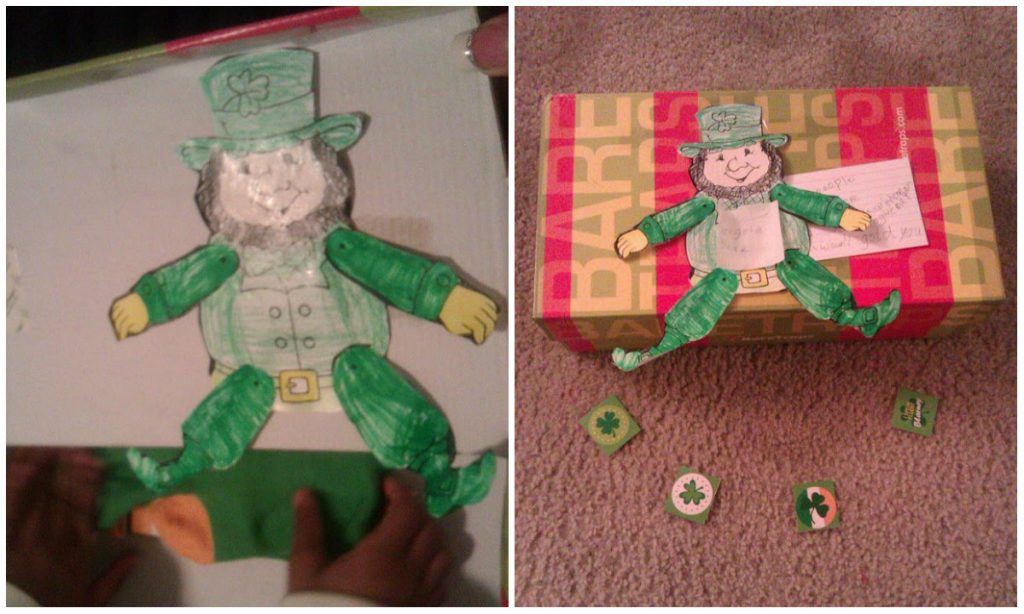 4) Have a Leprechaun movie night, but beware of the actual Leprechaun movie. It's pretty creepy, if you ask me. There are other "not so creepy" fun alternatives to choose from.

5) Color one of your meals green such as green pancakes for breakfast, or why not have breakfast for dinner?!
6) Splurge at Dollar Tree like I did and buy up some hats, boas, tutus, and scarves.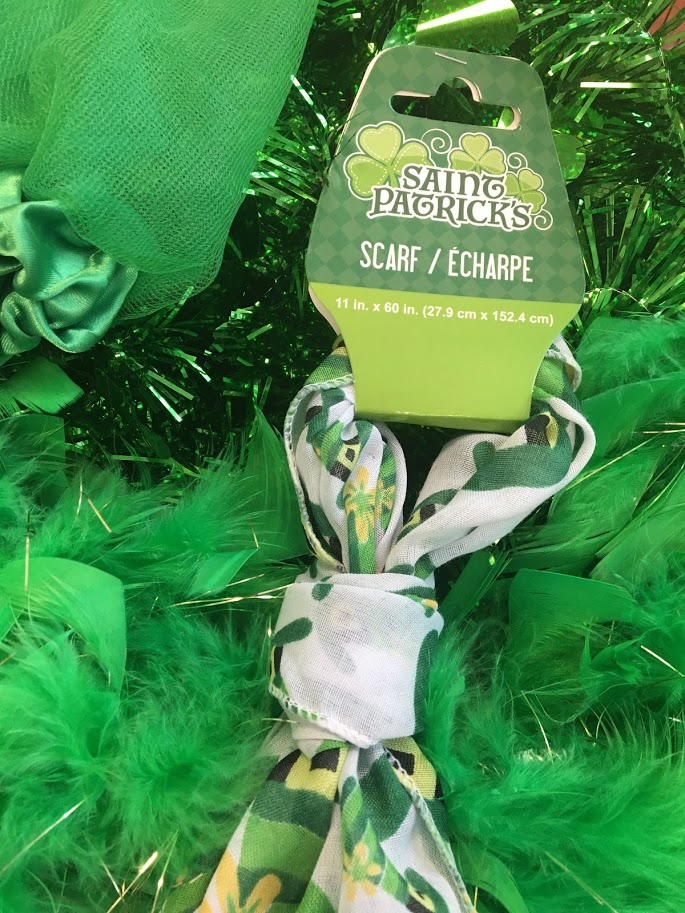 7) While you are at it, grab them a green Lucky t-shirt to wear on St. Patrick's Day and take them out to an indoor or outdoor play area. As a matter of fact, get everyone in your family a matching t-shirt.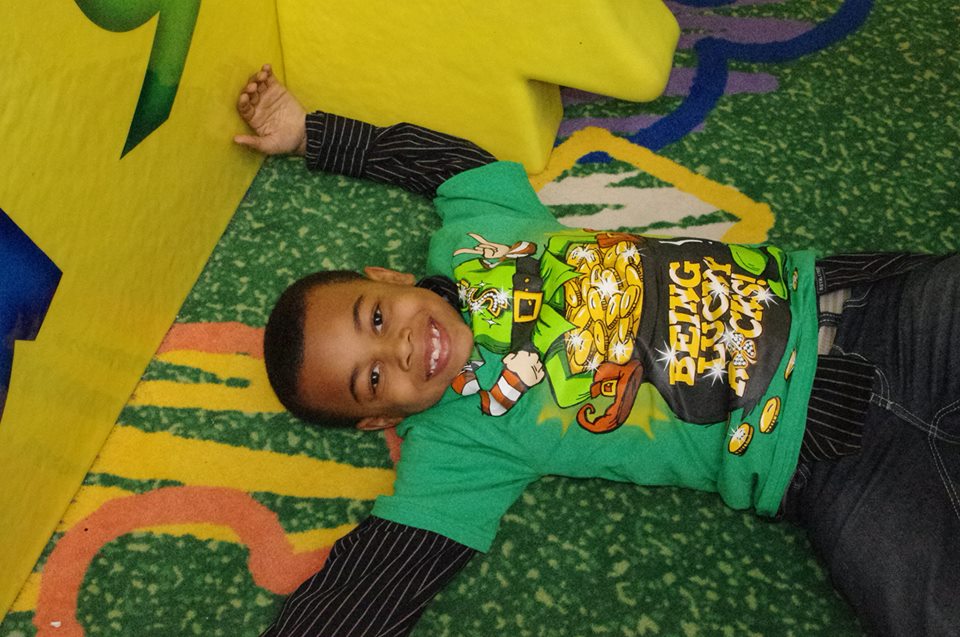 8) Decorate your home with St.Patrick's Day decorations such as this glittery Welcome sign, garland, and shamrocks.
9) Read a book together such as, How to Catch a Leprechaun or Ten Lucky Leprechauns.
10) Amongst the fun that goes on, actually spend some time researching the "true" history of St. Patrick's Day.
Cheers to an easy and memorable St.Patrick's Day – whether you are Irish or not!
Don't forget to check out my St. Patrick's Day Dollar Tree Haul below!