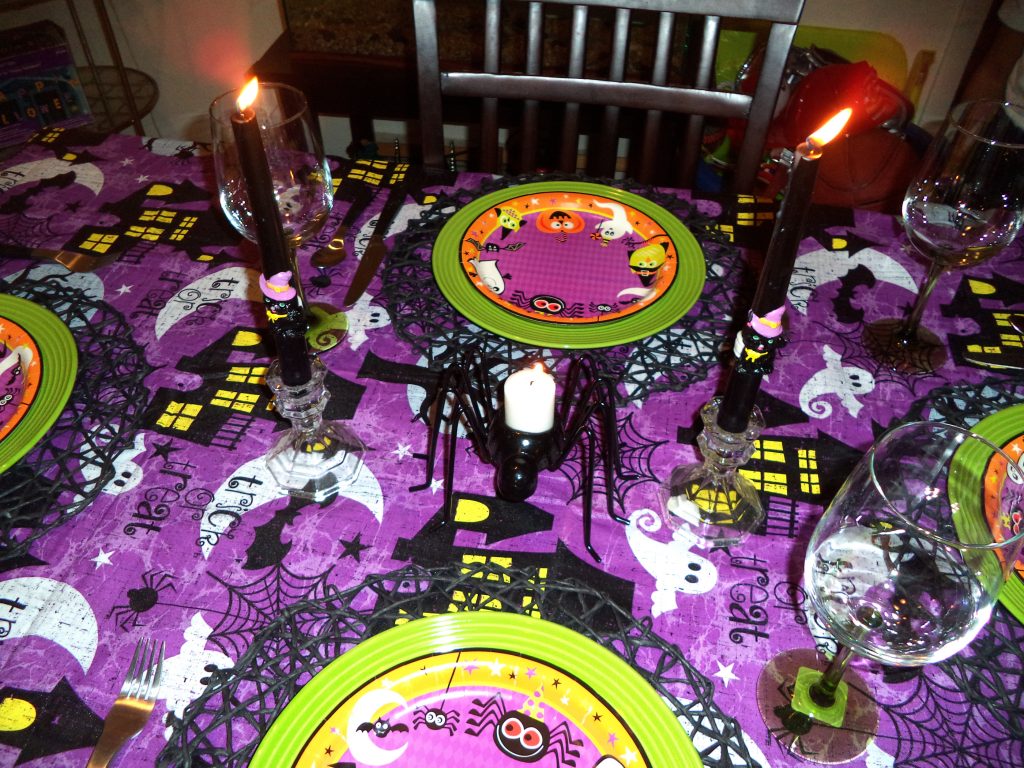 *I was compensated for this post. This post also contains affiliate links and I will be compensated if you make a purchase after clicking on my links.
Whenever September rolls around, I immediately get excited for all things fall, especially Halloween! Besides the boys birthdays, Halloween has become almost my favorite holiday. I don't love it for the gore and scariness. I love it for the fun and color! I mean the combination of purple, orange, and lime green just send fun and excitement all up my spine!
Each year, Americans spend more and more on this fun holiday and I am one. But, I do it in the savviest and creative way possible by shopping at my most favorite party spot of all, Dollar Tree.
Almost everything that I used to decorate for our family's Halloween dinner last year came from Dollar Tree.
Let's take a look, shall we?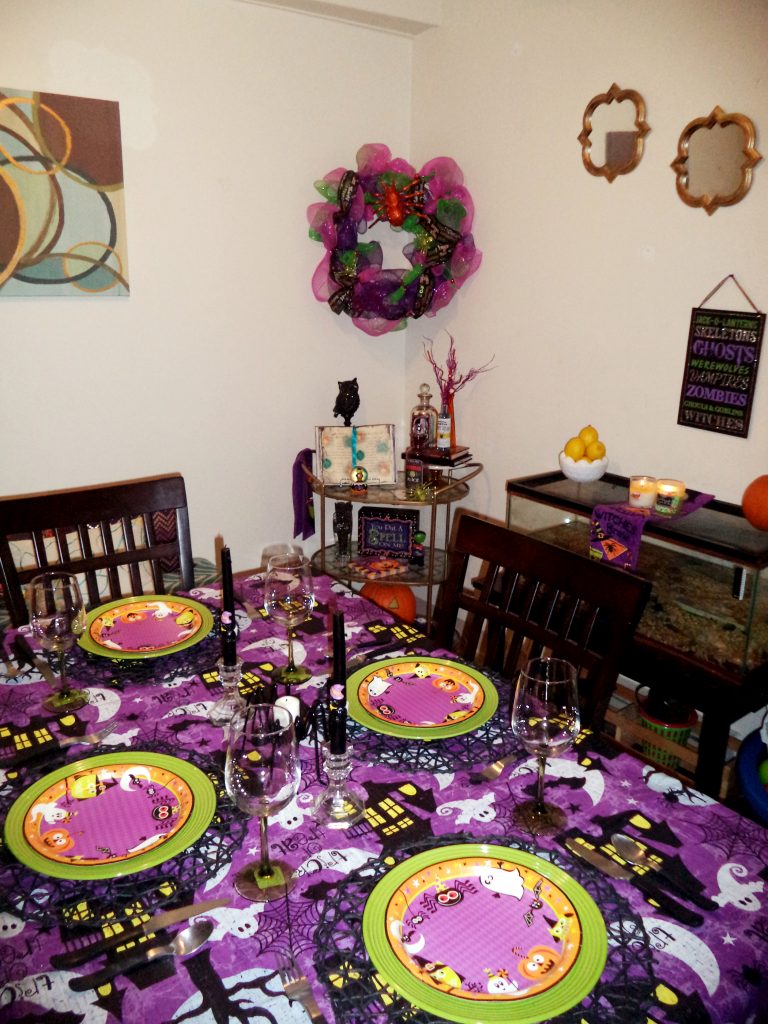 Dressing the Dinner Table
The dinner table was dressed with a rectangle-shaped, vinyl Halloween tablecloth. Each place setting was set with black, stemmed flatware, black wicker place mats, green plates from Dollar Tree, and topped with Halloween paper plates, from Dollar Tree. Green stemmed wine glasses were also from Dollar Tree.
Dinner Table Centerpieces
Down the middle of the table, I placed two, black, kitten Halloween, tapered candles into glass candle holders from Dollar Tree along with a black spider candle holder holding a white votive candle.
Shop Here: Glass Candle Holders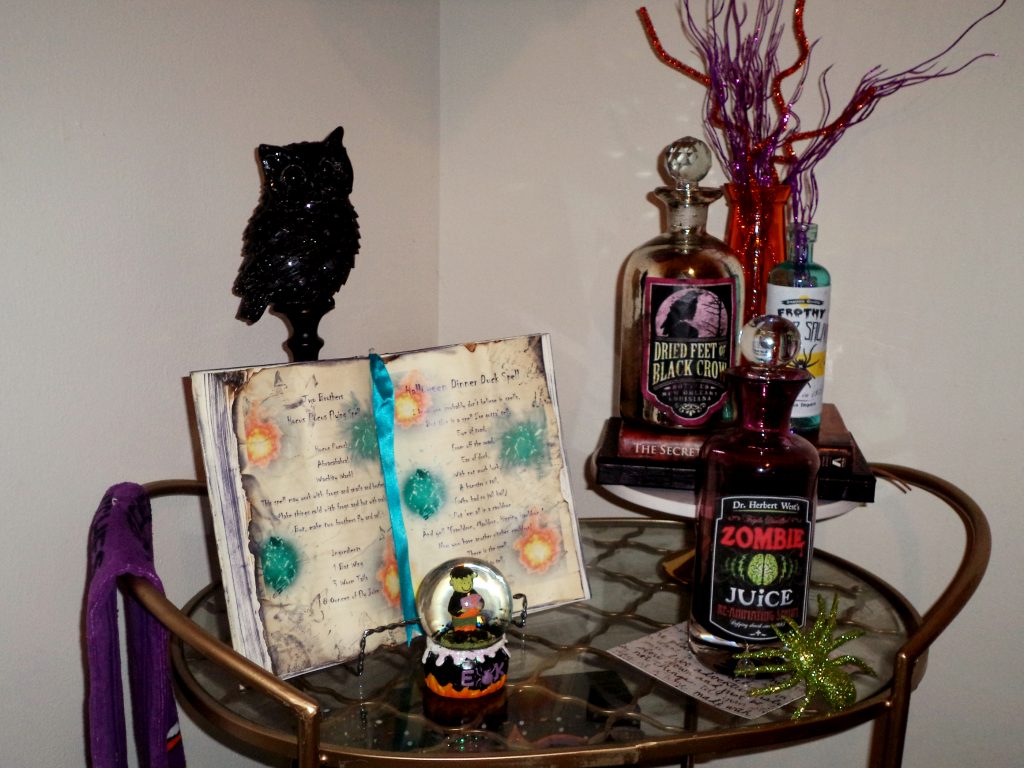 You Put a Spell on Me Halloween Bar Cart
In the corner of the dining room, sits our gold, three tier, bar cart. I decorated each tier.
Starting from the bottom, I used an electronic jack-o-lantern and placed real mini pumpkins beside it.
In the middle, I used a You Put a Spell on Me Halloween sign, placed matching napkins (from the plates), paper straws placed inside an Eat, Drink and Be Scary Halloween glass, both from Dollar Tree. Finally, I added a Dollar Tree Frankenstein Bobble Head.
This year's collection of Halloween Bobble Heads include a fun, blue pastel Dracula that I can't wait to go back and pick up!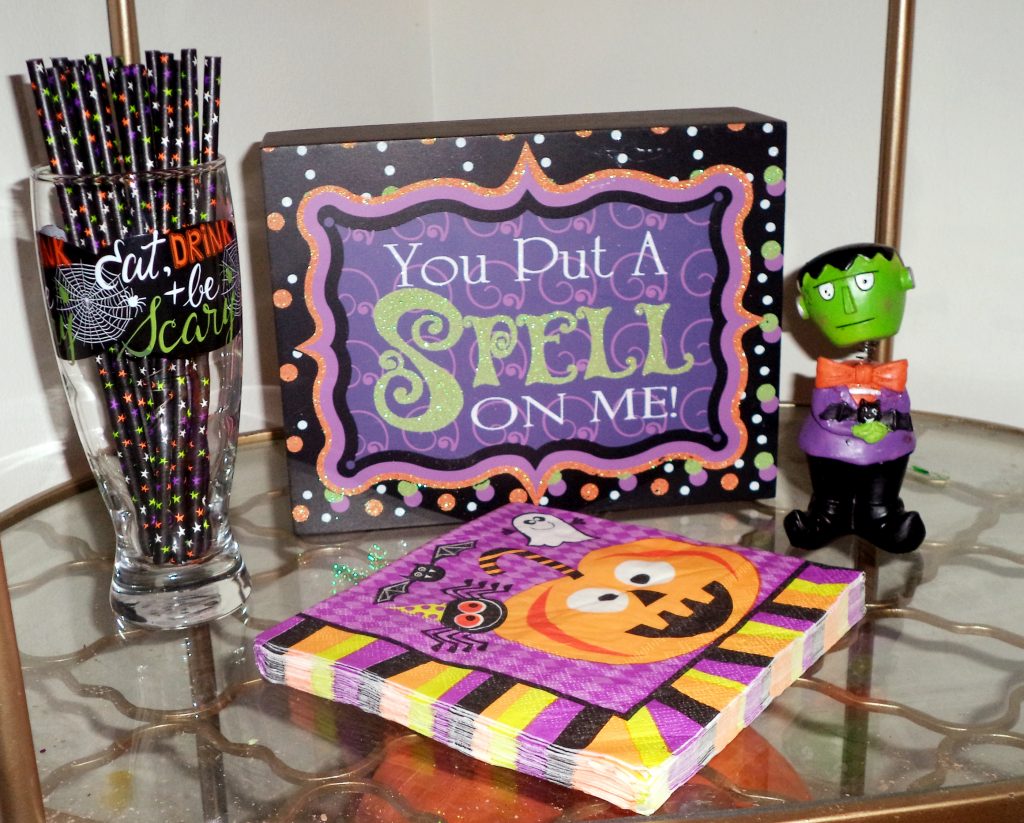 For the top of the bar cart, I wanted to make sure my guests understood the "You Put a Spell on Me" theme, so I created a fake, handmade spell book and used a cake stand to hold books and apothecary jars with free, printable potion labels.
In addition to the items above, I added a black owl and an orange, tapered column vase filled with orange tinsel stems and purple, glittery Halloween branches which I used the leftovers to make a mesh deco wreath (found above the car cart). Finally, I placed my cute, little Frankenstein water globe in front of the spell book. These water globes can still be found this year in stores.
Shop Here: Orange Tapered Column Vase/Orange Tinsel Stems/Glittery Halloween Branches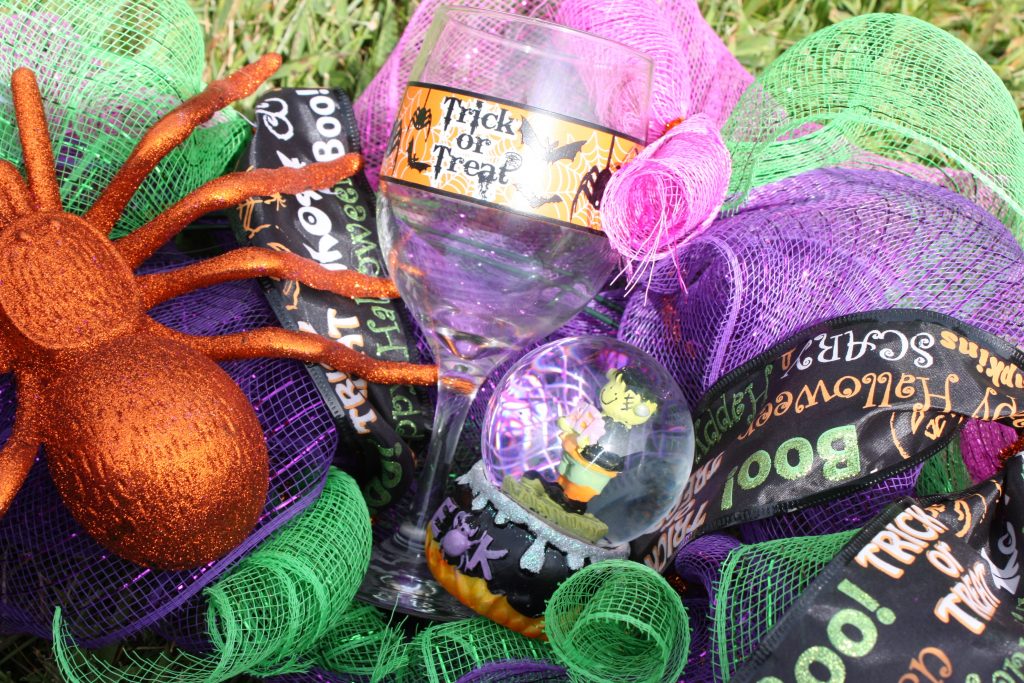 Home Decorations
Decorations throughout the house consisted of candy dishes filled with candy and Halloween signs from Dollar Tree. Last year, I used several of the worded signs. But, this year, I was excited to find the I've Got My Eyes on You Jar Sign because I'm planning to decorate with so many eyes this year! I even picked up eyeball salt and pepper shakers (below) from this year's Halloween collection.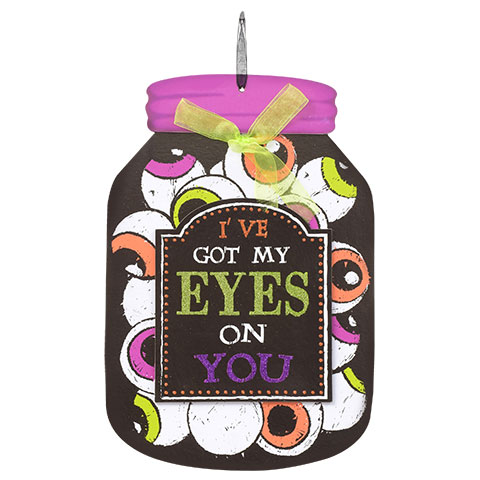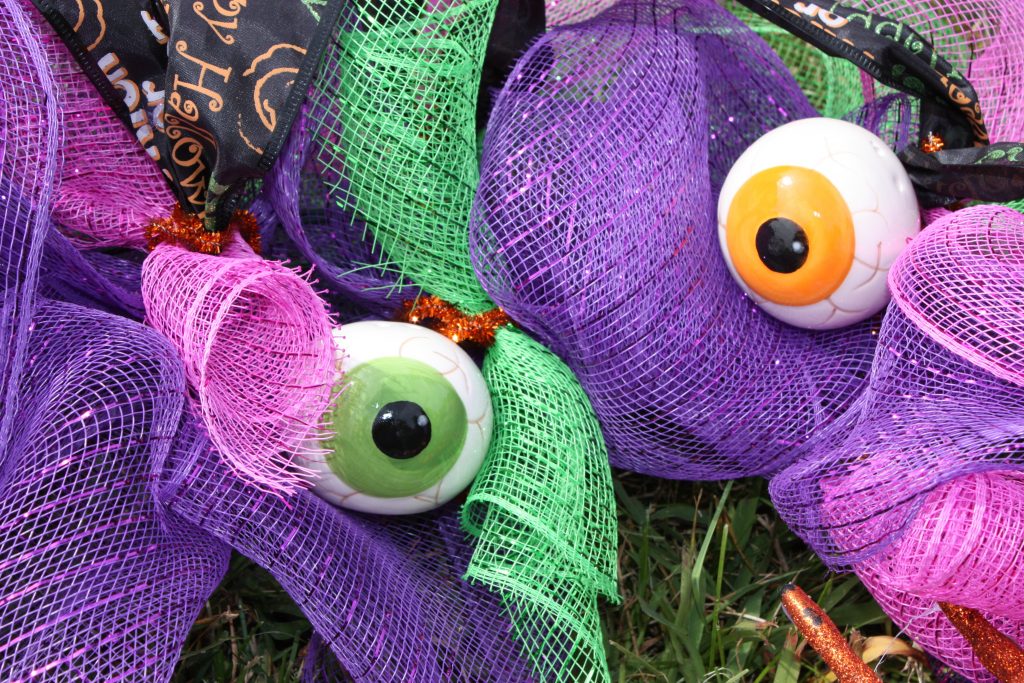 What's for Dinner?
Finally, I served baked chicken breasts, homemade macaroni and cheese, homemade dressing, cranberry sauce, green beans, carrots, rolls, and brownies. I'm telling you, it was like a pre-Thanksgiving feast!
One of the coolest things I enjoyed about dinner (excuse the old camera phone footage) was serving the food using skeleton tongs. While these weren't from Dollar Tree, you can actually get a similar pair from Dollar Tree right here!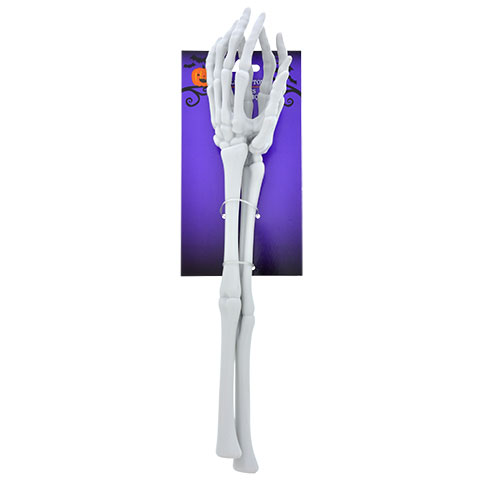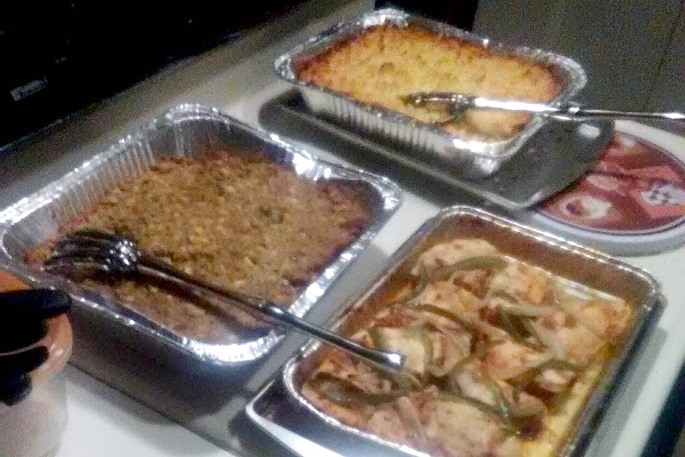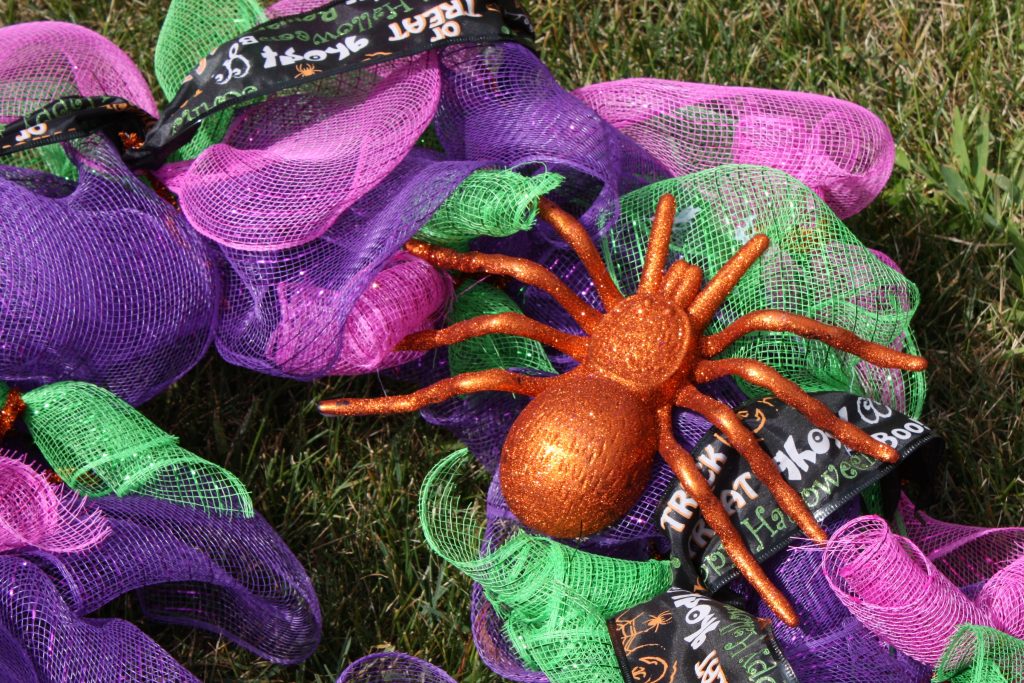 Deco Mesh Halloween Wreath
My deco mesh Halloween wreath was very inexpensive to make. As in less than $7 to make. I purchased three rolls of deco mesh and wide ribbon, some large spiders, a wire wreath frame, and orange tinsel stems. This year, I simply plan to add to it.
Shop Here: Deco Mesh/Orange Tinsel Stems
The actual Dollar Tree tutorial can be found here. 
Don't forget to Pin the image below if you've found inspiration in today's post!