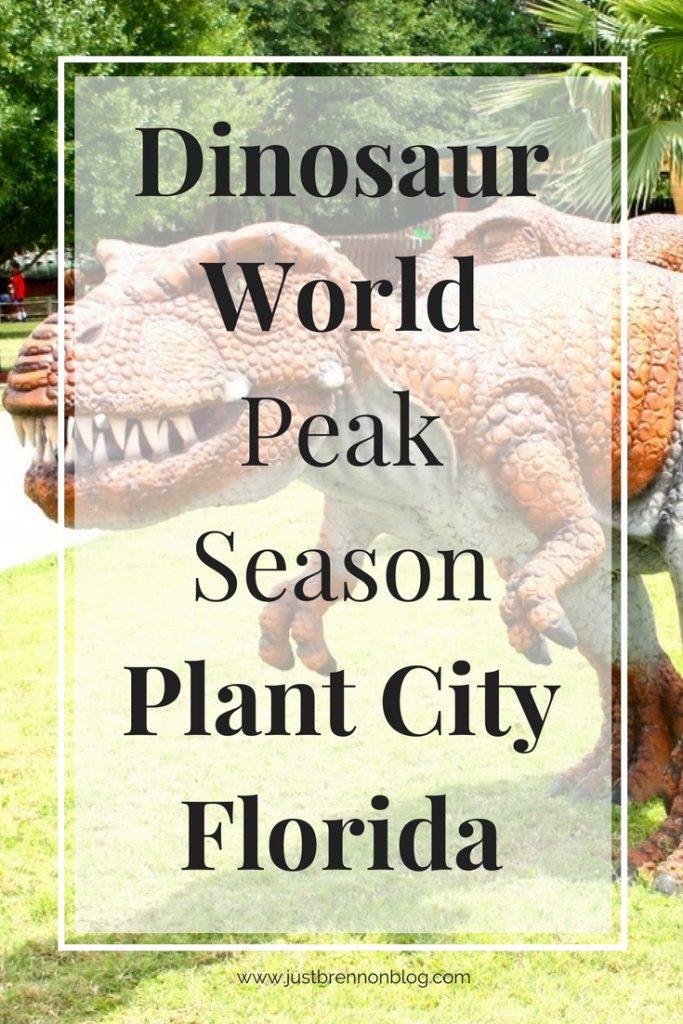 This post is in partnership with Dinosaur World, Plant City, Florida.
As you are planning your Spring and Summer travels and occasionally stopping by here for travel inspiration and attractions; I couldn't help but share and review another amazing attraction; Dinosaur World in Plant City, Florida.Dinosaur World in Plant City features over 200 life-size dinosaurs throughout the outdoor theme park.
Last September on our Fall vacation the boys and I spent time in Cave City, Kentucky and spent an afternoon at Dinosaur World. Later I learned that there were two other locations; Florida and Texas. So, last weekend, our travels took us to Dinosaur World in Florida!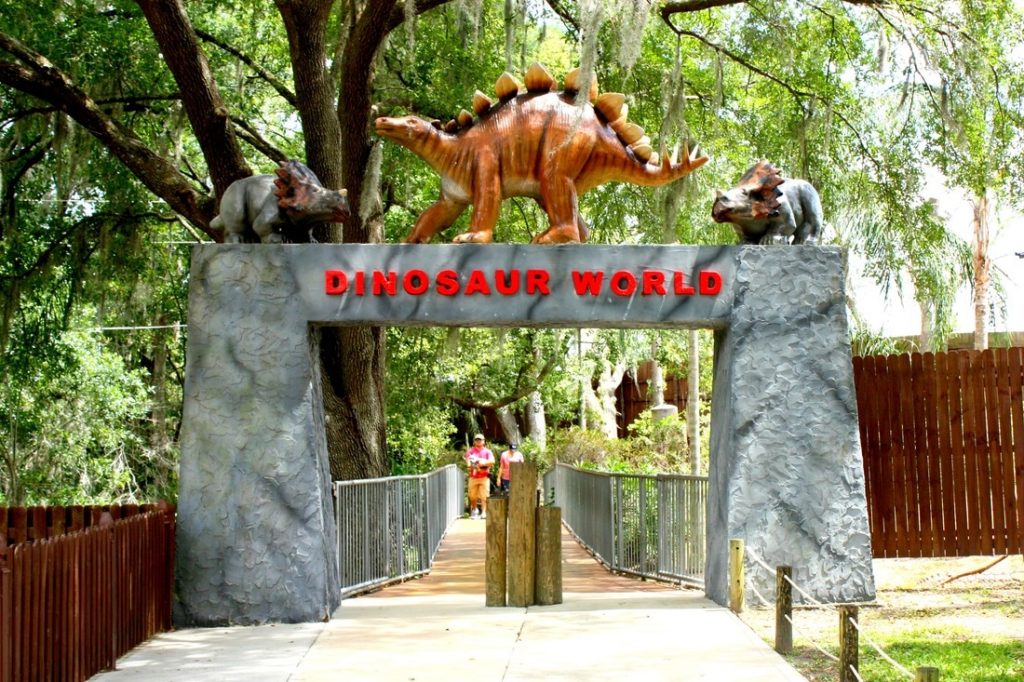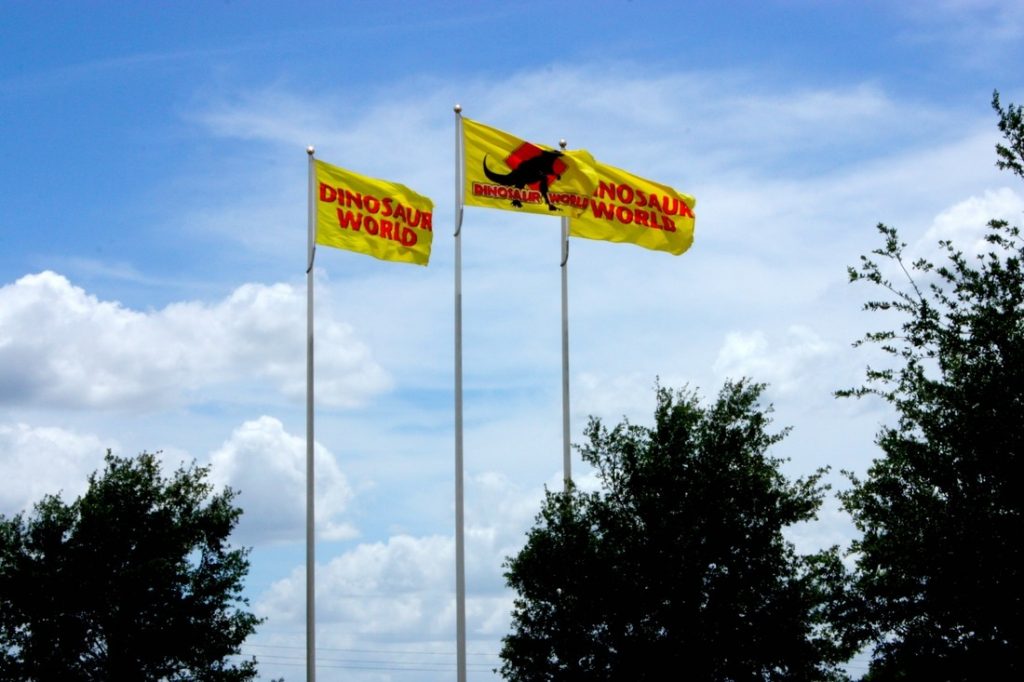 Location
Dinosaur World is conveniently located right off of I-4 at Exit 17 at 5145 Harvey Tew Road in Plant City, FL 33565. Parking is free and additional free parking is located at the rear of the parking lot.
Admission
All visitors must enter through the Gift Shop, where you choose and pay for what attractions you will participate in.
A daily admission adult ticket is $16.95 (plus tax). However, children will appreciate the Excavation Pass which is $18.95 (plus tax). Included in the Excavation Pass is a Fossil Dig ticket and the Lucky Strike bag at the Dino Gem Excavation.
We received our green wristbands and tickets, a map of the park, the times for the Fossil Dig and Exploration Cave Show Tour, as well as tips for exploring the park. We were encouraged to visit the Museum to see the animatronic dinosaurs as we waited for the Exploration Cave Show and the next Fossil Dig.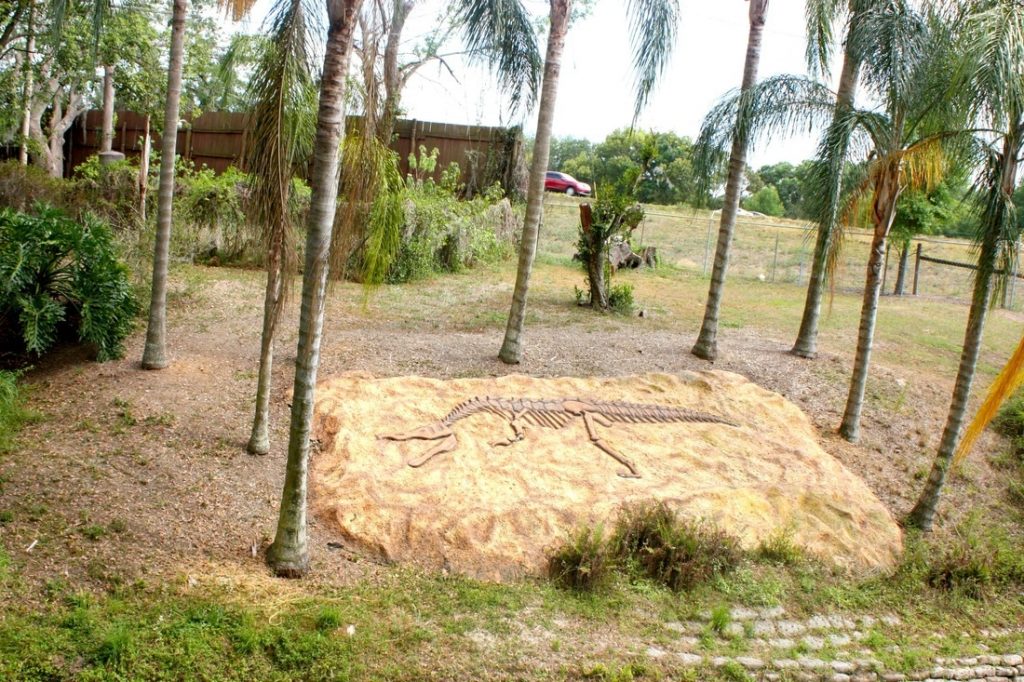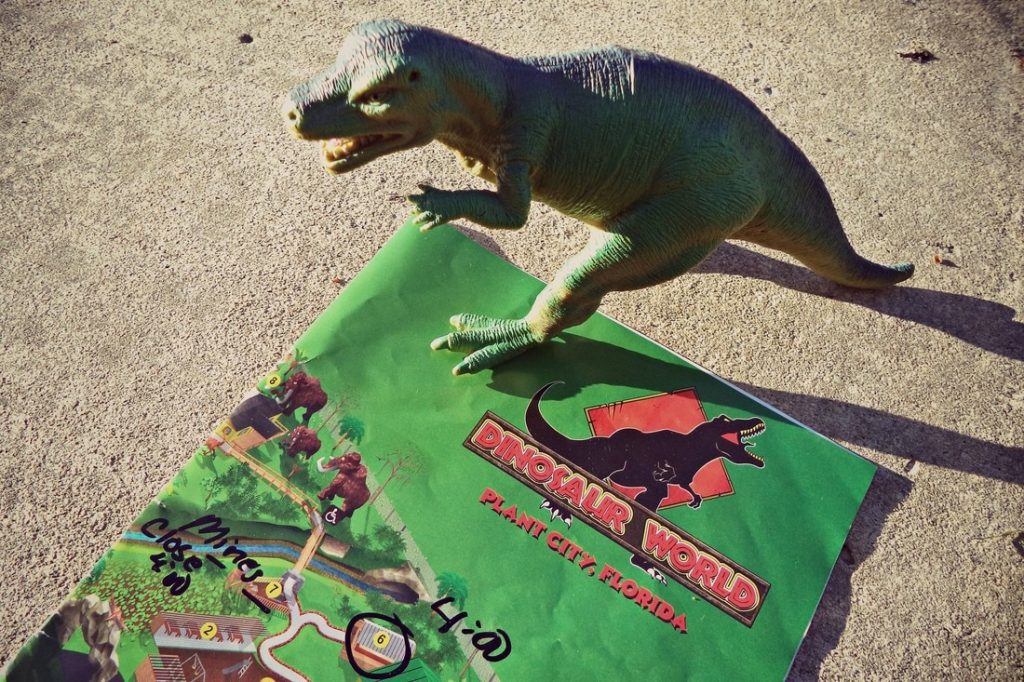 Check out that dinosaur! There are so many to choose from in the Gift Shop!
Museum and Touch and Tell Boxes
Aside from the highly attractive, animatronic dinosaurs, museum goers are greeted with exhibit boxes of interesting dinosaur facts and various artifact replicas such as eggs, claws, and teeth.
After exiting the museum in Cave City, your next exhibit is the Guess and Tell boxes, but in Plant City, they are a little while into the park. But, regardless of where they are located, they are still a favorite of the boys.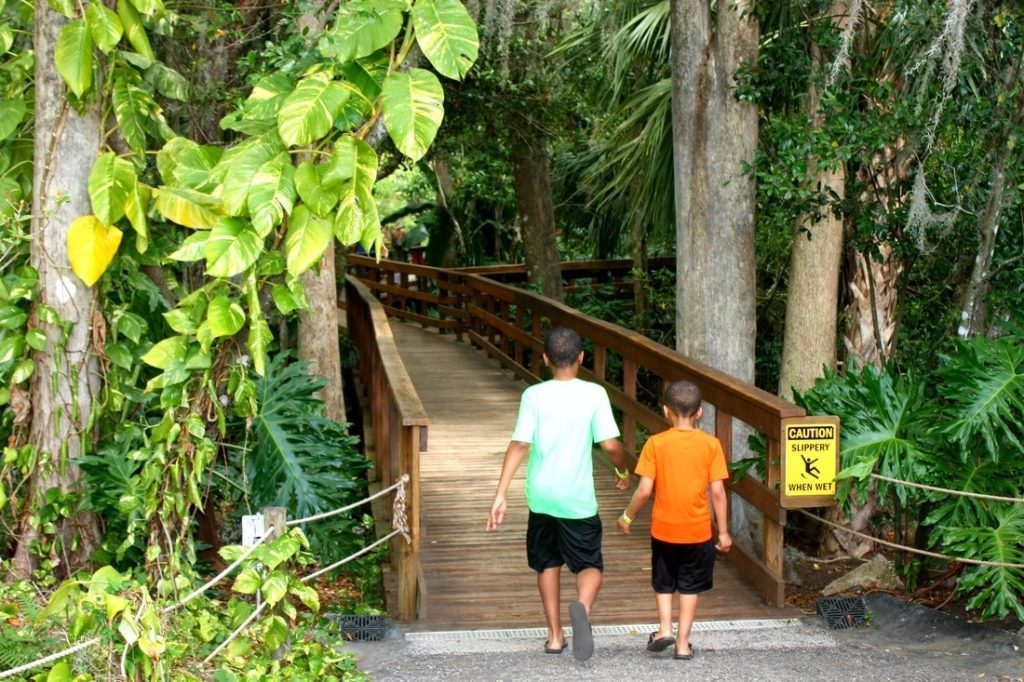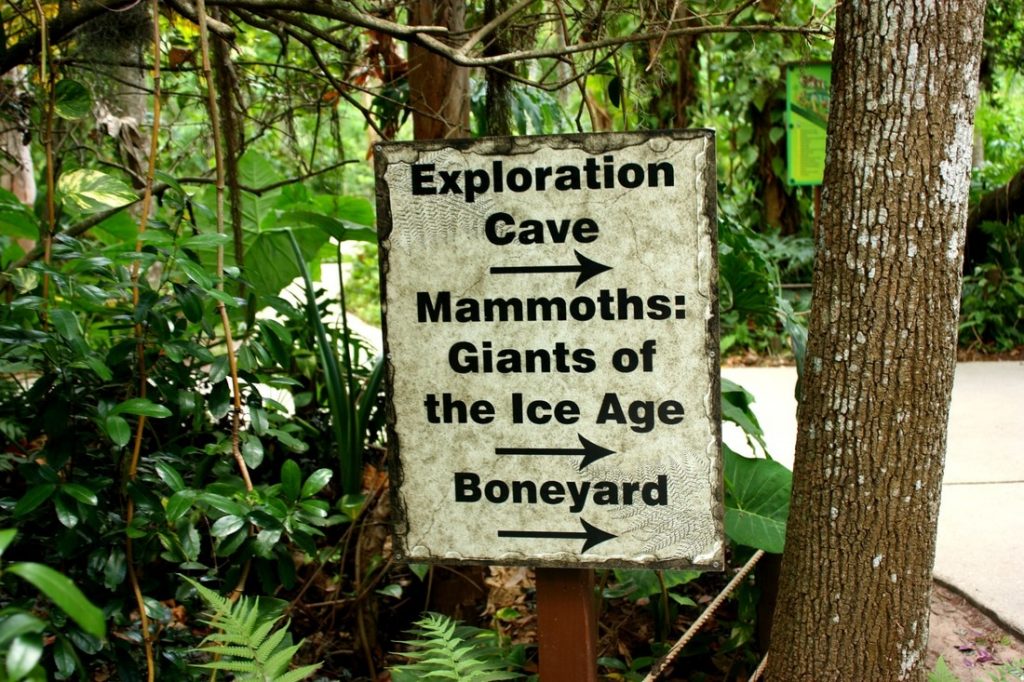 Fossil Dig and Bone Yard
The Fossil Dig and Bone Yard are very similar at both locations.
For the Fossil Dig, tickets are taken and children are given a bag and instructions on how the Fossil Dig works. For 15 minutes, the children go rambling and digging in the sand, trying their hardest to find (three) random, historic-like teeth that they are able to keep as souvenirs to take home.
The Bone Yard is another exhibit in Dinosaur World that allows children to dig and brush around. In the Bone Yard, children are equipped with a brush and shovel where they fill the shoes of paleontologists to uncover and examine the 27-foot skeleton from under the sand.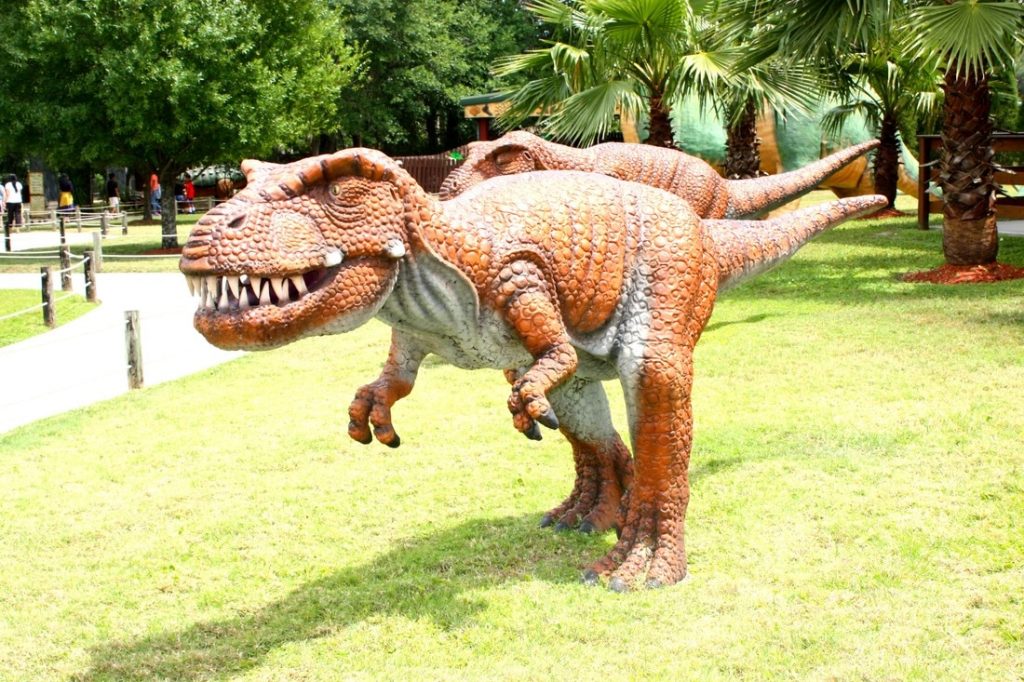 Lucky Strike Bag at the Dino Gem Excavation
Additionally, is the Dino Gem Excavation. During the Gem Excavation, each of the boys were given a bag that contained sand and rock-like matter with "gems" and began panning. The most exciting part of them panning was that, like the Fossil Dig, they were able to take home whatever they found. So, they each left with a pretty, nice size bag of gems that we later discussed with the Gem Identification Card that was also given to us.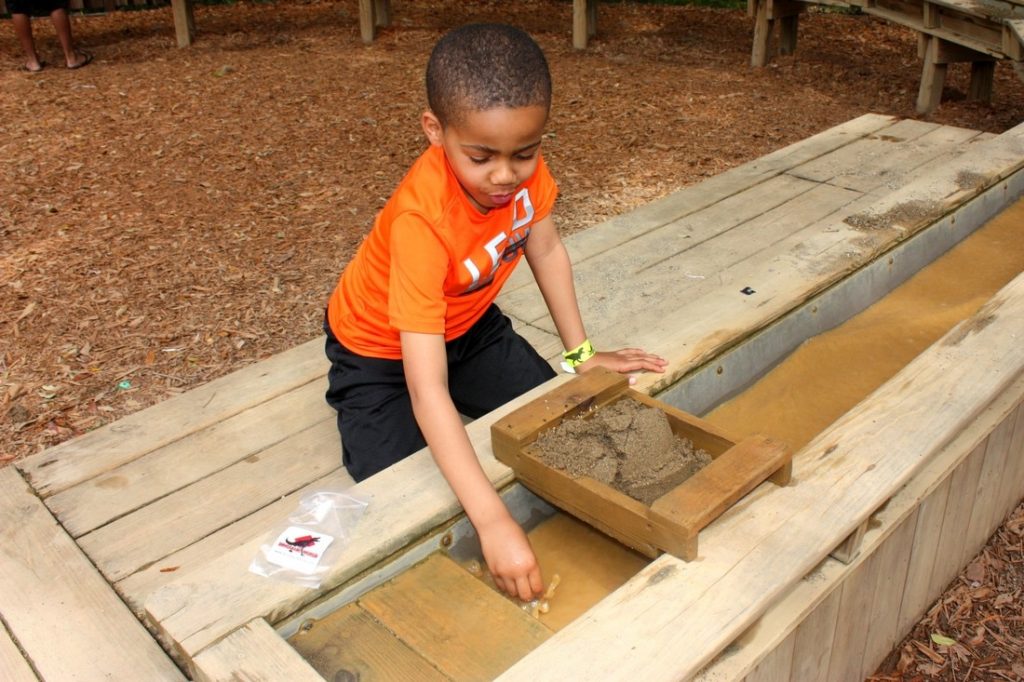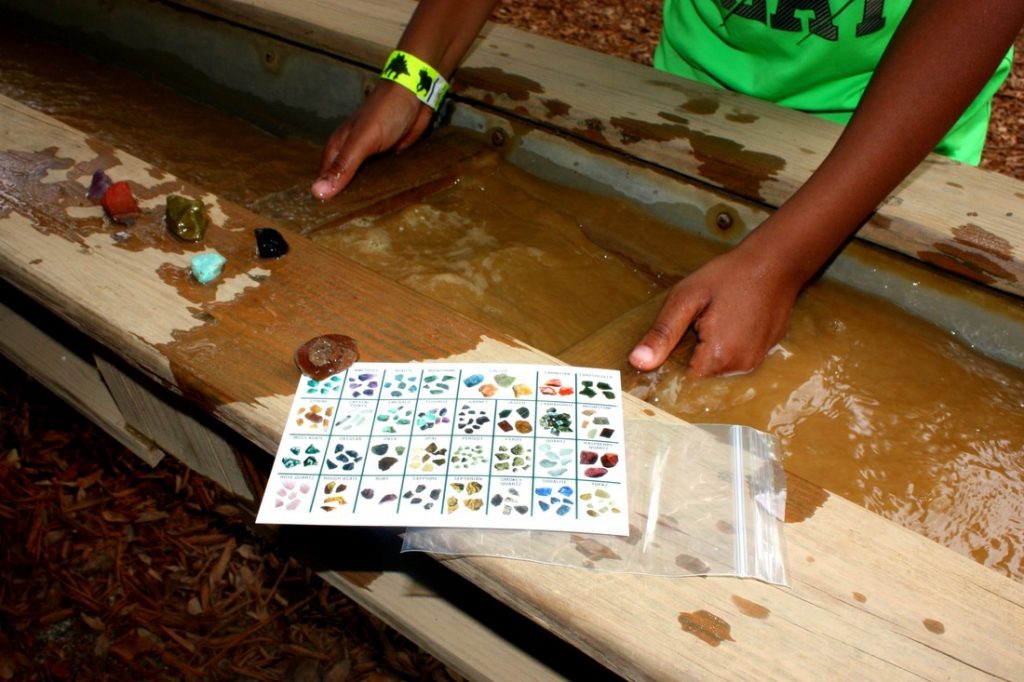 Interactive Shows
Dinosaur World in Plant City offers two interactive shows that are not a part of the Dinosaur World in Cave City, Kentucky. These include the Triviasaurus Rex Game Show and Exploration Cave Show.
Our favorite, hands down was the Exploration Cave Show. Although, the show begins once you enter the cave, you are entertained by the Exploration Cave Attendant who is extremely knowledgeable about dinosaurs. As we waited, we were asked, "What is your favorite dinosaur?" As the answers poured in, Thom was able to give an interesting fact about each of the dinosaurs mentioned. I was truly impressed. And, the best thing is, if you miss a fact, you can find them on the dinosaur plaques throughout the park.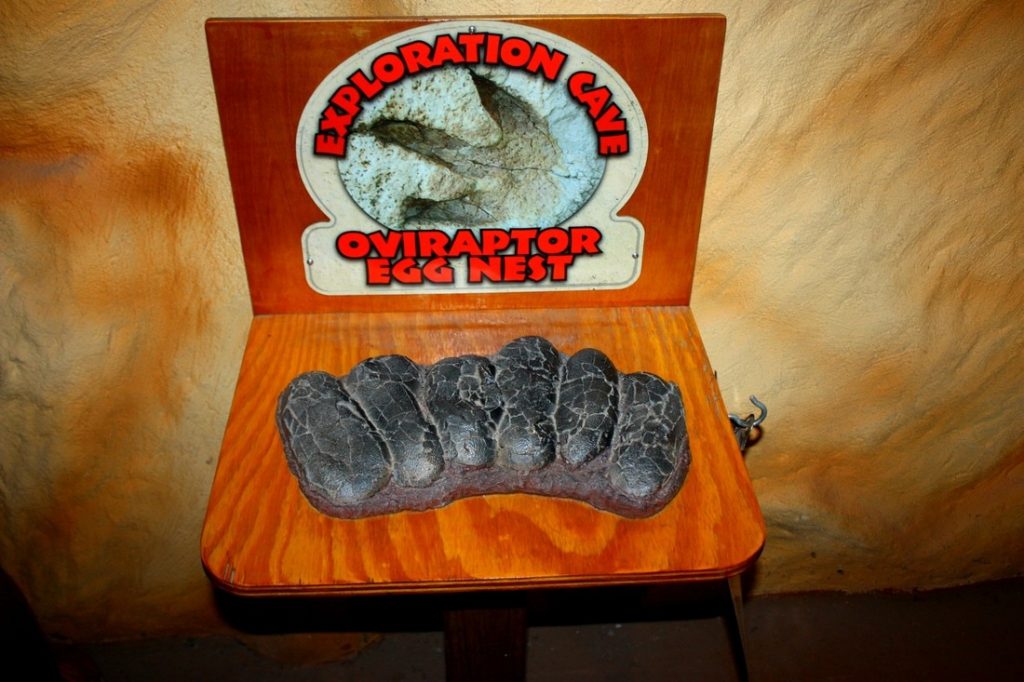 I was even more impressed once we actually began our tour inside the cave because you actually leave the exhibit with a wealth of information about dinosaurs.For example, we learned that it was hard to tell what kind of lips dinosaurs had because their lips were soft tissues and soft tissue from dinosaur lips don't fossilize.
Pretty interesting, huh?
Before exiting the tour, we received more information on dinosaurs, such as how fossils are preserved and packaged and how to determine the type of dinosaur it is by the shape of its mouth.
For example, "Does the dinosaur have a beak mouth? Why is that?"I bet you thought I was going to tell you the answer, huh? No. You'll have to go and find out for yourself!

Carnivore Boardwalk and Deinonychus Island & The Fish Pond

As we continued on our excursion throughout the park on the Carnivore Boardwalk, Deinonychus Island, and Fish Pond, we learned about so many different dinosaurs because they were all label with a metal plate with snippets of educational information regarding that particular dinosaur.
I will caution you, while the boys and I loved the Carnivore Boardwalk, some exhibits may be too graphic for young children.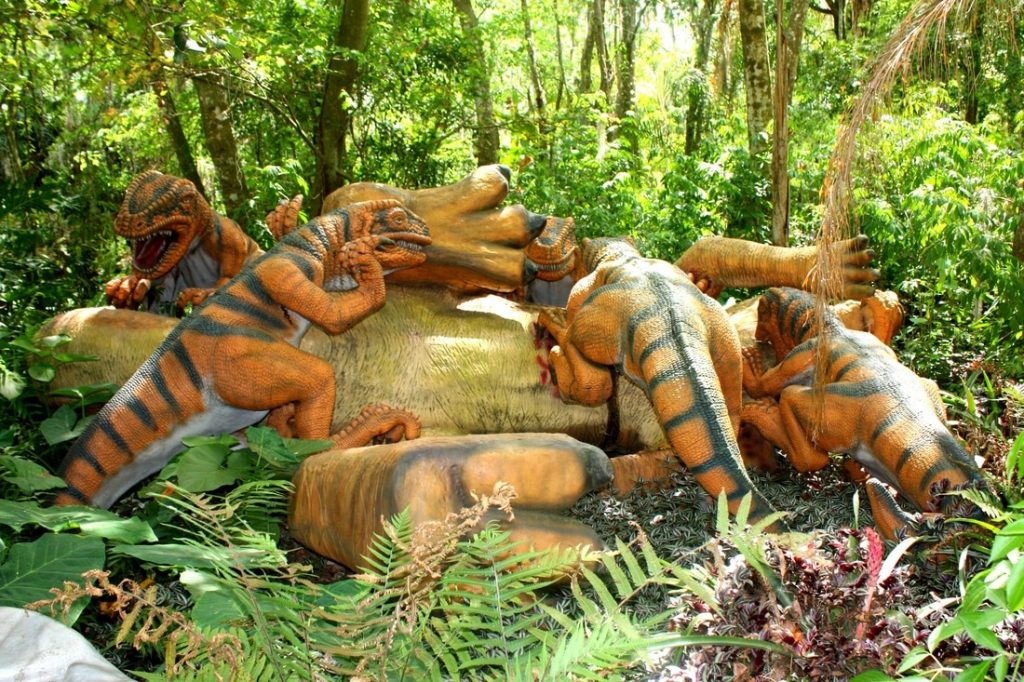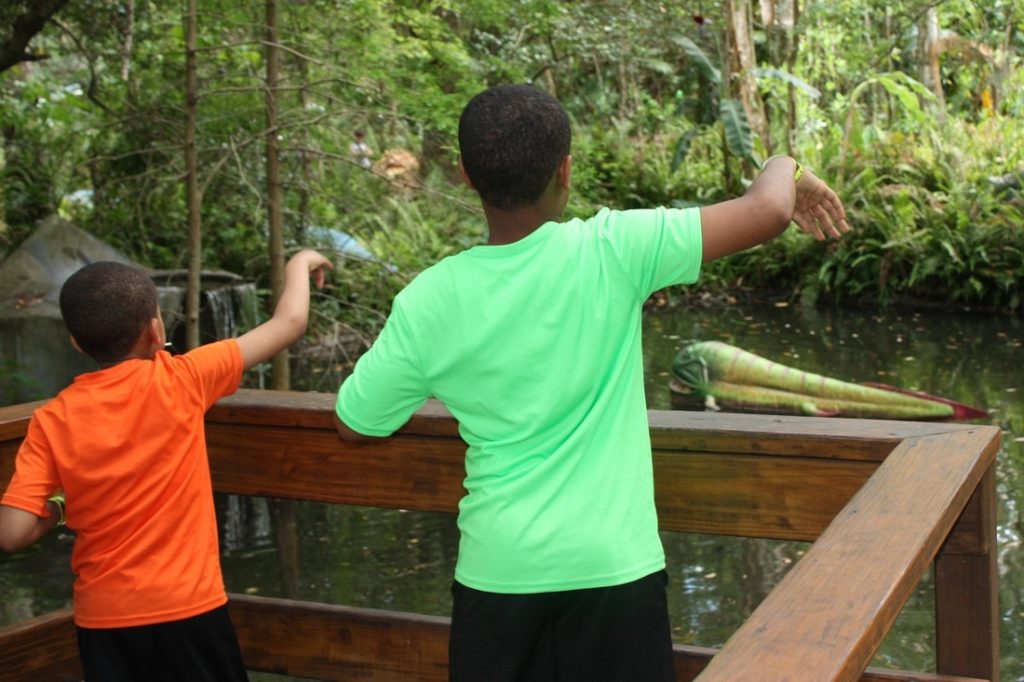 Mammoths, Giants of the Ice Age & Playground

With so many interesting exhibits, it is hard to have just one favorite. So, another one of our favorites was the Mammoths, Giants of the Ice Age. Upon entering the exhibit you come face to face with a decorated wall of cute pictographs. My boys loved this because a few weeks back we spent time in the southwest and learned and observed so much about native people, dinosaurs at Moccasin Mountain in Utah, and various pictographs. So, when they saw this they immediately started talking about pictographs and ancient times.
The cutest thing was when my six-year-old matched his hand to one of the hand prints and said that he had found his ancestor. (LOL)
I'll tell you this. While Dinosaur World is definitely fun, it is also amazingly educational. You will walk out so much more knowledgeable than when you walked in.
Finally, we finished our excursion with the playground and later exited back through the Gift Shop where we took some time to browse around before finally leaving.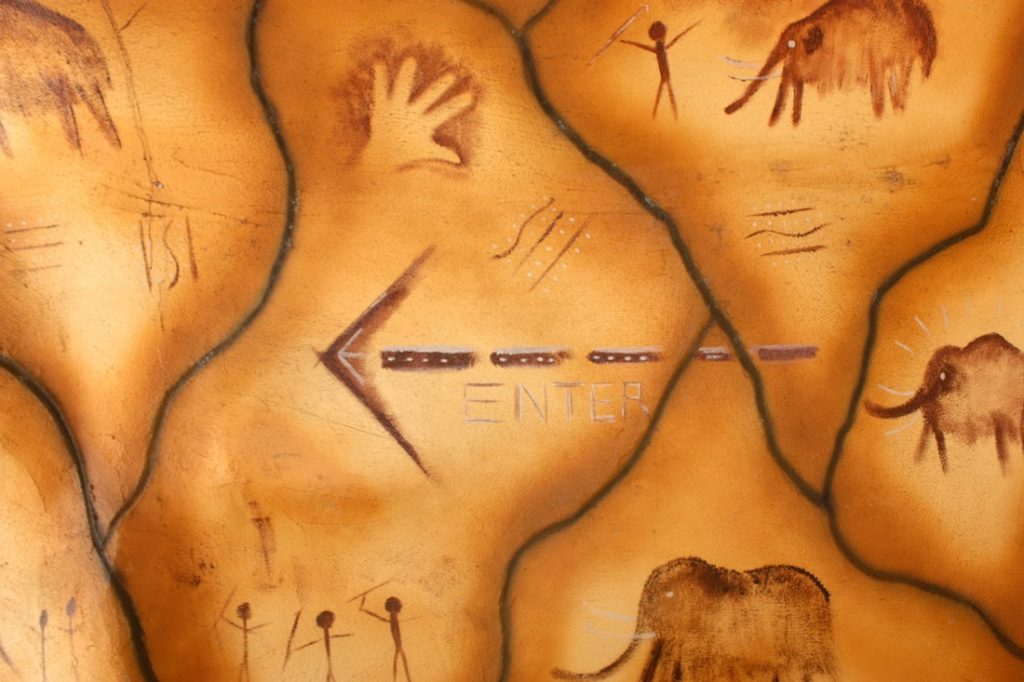 Recommendation
Normally, we do a majority of our travels during the off-peak season, this time, however, we went during Florida's peak season. While we did have to wait in line for many of the exhibits, they were all worth the wait.
So, with affordable admission prices, friendly staff, interactive exhibits, and free parking, Dinosaur World is definitely a win of a trip!
P.S. Don't forget…
Dinosaur World welcomes well behaved, leash-trained puppies and is handicapped accessible.