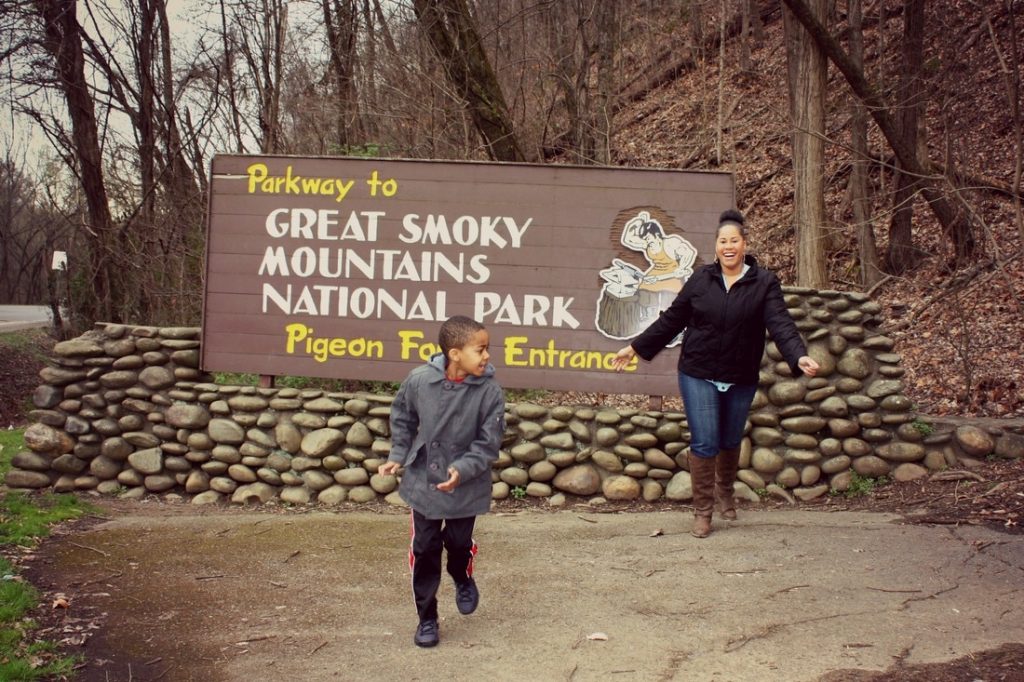 This past Friday, we hit our 6th and 7th states by visiting the Great Smoky Mountains on both, the Tennessee and North Carolina side. In last week's post, Headed to the Great Smoky Mountains…Any Tips? I shared our planned itinerary and I'm happy to say, we actually accomplished our plans and even managed a few add-ons. For those who gave me tips on other places to visit through email and other online communities, THANK YOU SO MUCH! I appreciate your help more than you know.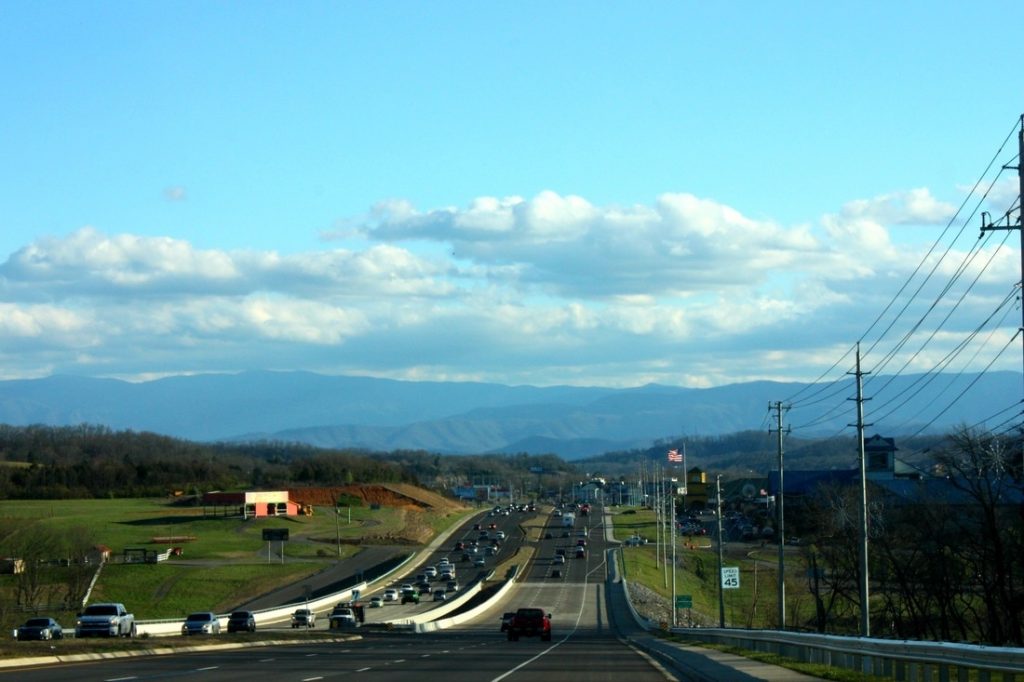 Friday, March 10th
We left en route to Pigeon Forge, Tennessee at about 8:30 AM and arrived about 4:30 PM after stopping several times along the way.
​Once we arrived, we checked into our lodge on Pigeon Forge Parkway and headed out to explore what the five-mile strip had to offer.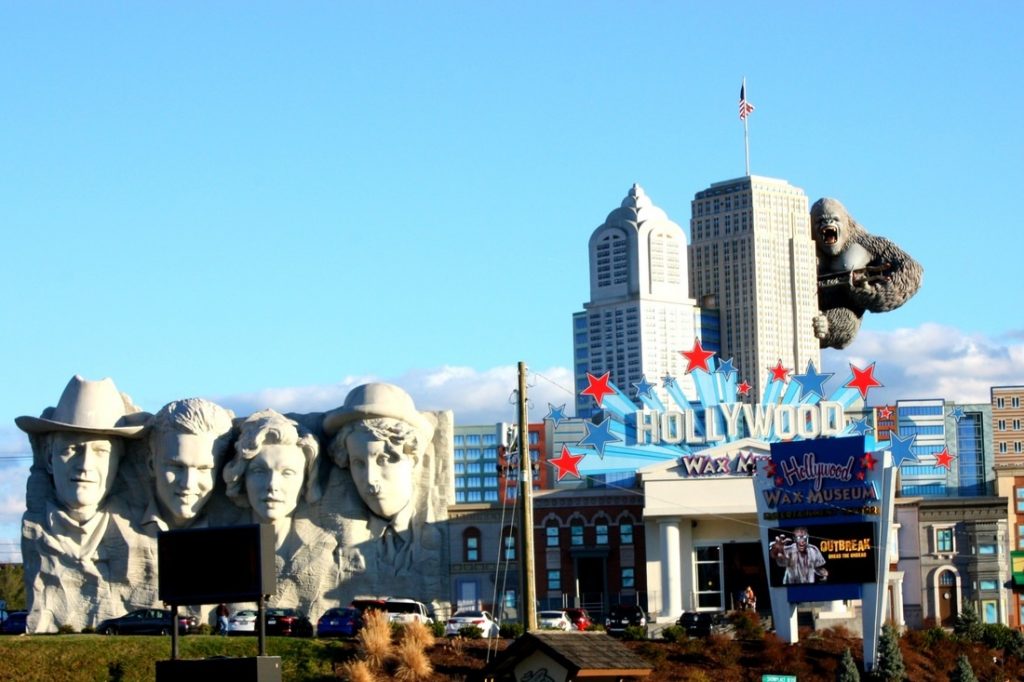 Out of all of the attractions on the strip, the boys enjoyed the view of the Hollywood Wax Museum the most. The have a love for King Kong movies, so quite naturally they enjoyed seeing King Kong on top of the building.
As much as I wanted to make the museum a part of our trip, I disciplined myself and decided against purchasing tickets. It was not a planned-for attraction and I had to keep in mind, we are not on vacation, even though it may seem like it.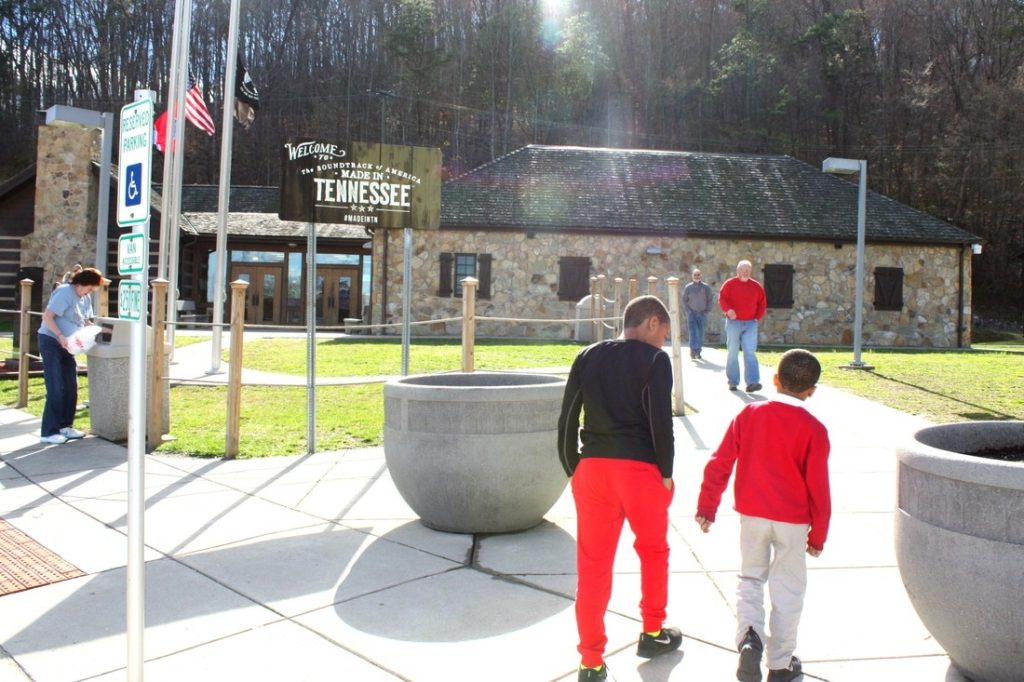 Travel Tip: Keep a travel journal of places you want to visit.
Since, we are seeing a lot of places we would like to visit and enjoy, I have encouraged the boys to keep a journal of places that they would like to return to in the future. Already, they know they want to come back to Pigeon Forge and Gatlinburg to visit Wonderworks, the Hollywood Wax Museum, Ripley's Believe It or Not Odditorium, and to take a helicopter ride over the Smoky Mountains. 
Cici's Pizza, Balloon Swords, and Arcade Tickets
Once we were done checking out the five-mile strip and making a pitstop in Wal-Mart, we headed for Cici's Pizza for dinner. While eating, a Cici's Pizza balloon artist came over and made the boys balloon swords – which was pretty cool because out of all of the Cici's Pizza restaurants I have been in, I have never witnessed a balloon artist inside. Once we were finished eating and the boys had their swords, we headed off to the arcade located in the back of the restaurant.
Once we left, we stopped in a cute, little, shop called Chocolate Monkey where they served delicious treats like candy apples, chocolate covered rice krispies, and ice cream.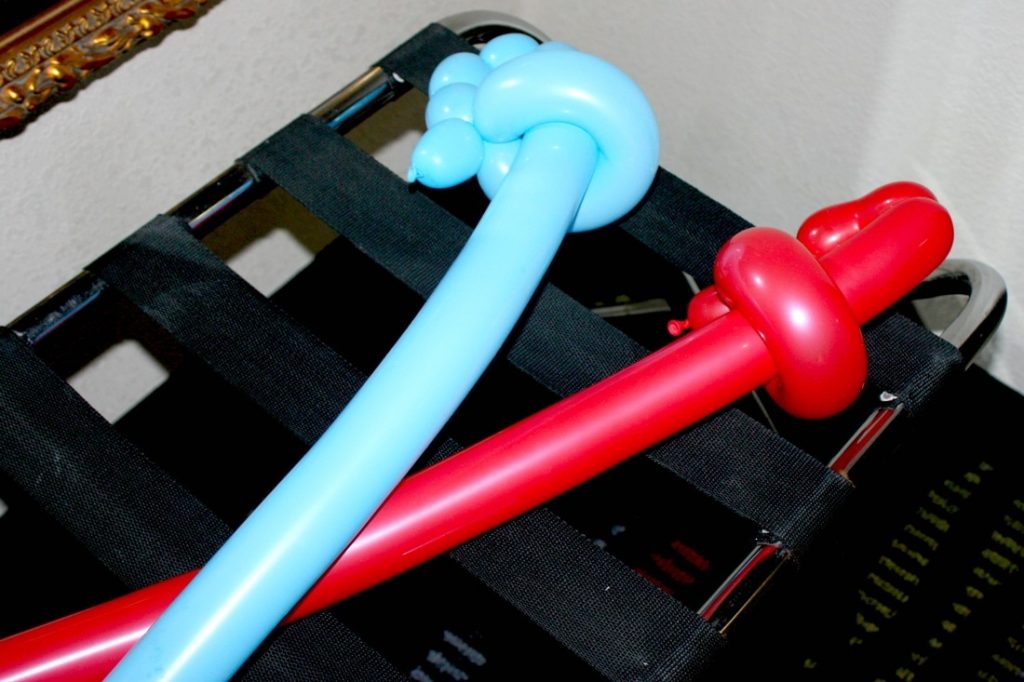 Friday Night Planning
Once we returned our room, the boys relaxed, watched some television shows, and played UNO. I'm telling you what…we bring this game everywhere.
While they were busy doing their own thing, I pulled out all of the information books that we collected during the day, as well as my own itinerary, and began finalizing our Saturday plans.
Saturday, March 11th
Soon after waking up and getting ready, we grabbed a little continental breakfast from the lodge and headed for the Smoky Mountains; stopping at the Pigeon Forge Entrance to snap a few photos.
The original plan was to stop by Sugarlands Visitor Center, take the scenic drive through Cades Cove, and end by traveling to Cherokee, NC by using Newfound Gap Road.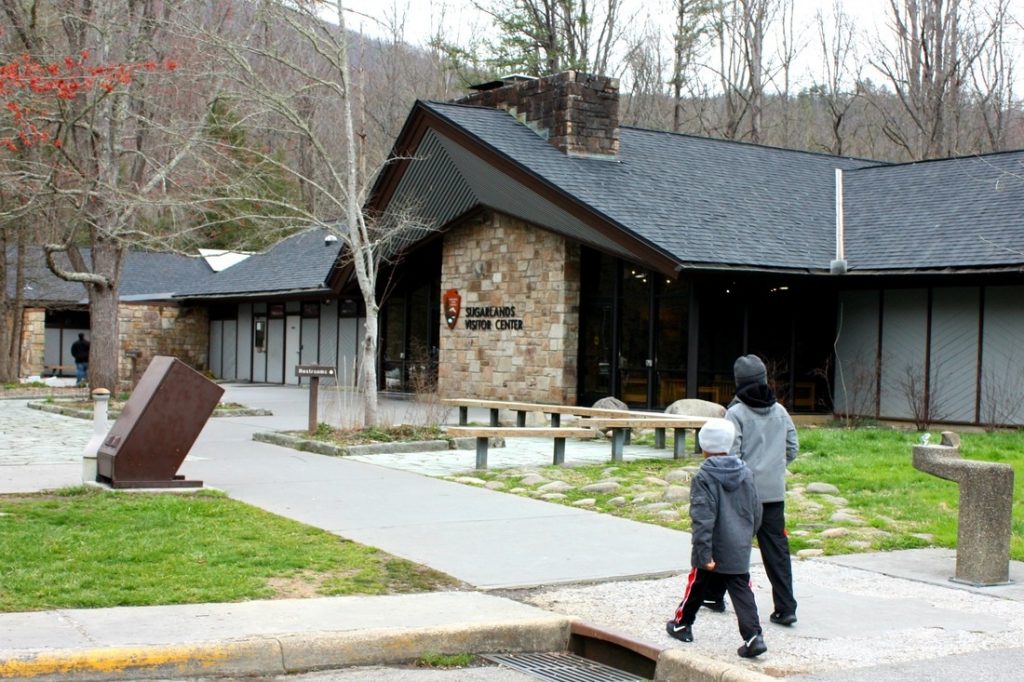 Sugarlands Visitor Center
However, once we spoke with the Rangers in Sugarlands Visitor Center, we learned that snow would be falling shortly. So, instead of touring Cades Cove first, we decided to attempt to beat the snow and head to Cherokee, NC. 
Travel Tip: Plan to stay at least an hour in Sugarlands Visitor Center.
If you have never been, I would recommend making your visit to Sugarlands Visitor Center an attraction and stop of its own. There is a lot to see inside such as gift shop where you can get the kiddos their ranger passports (by age) for $2.50, as well as other goodies. There is also a film showing and museum, not to mention a wall of informational books and maps that can be purchased for as low as .50 cents.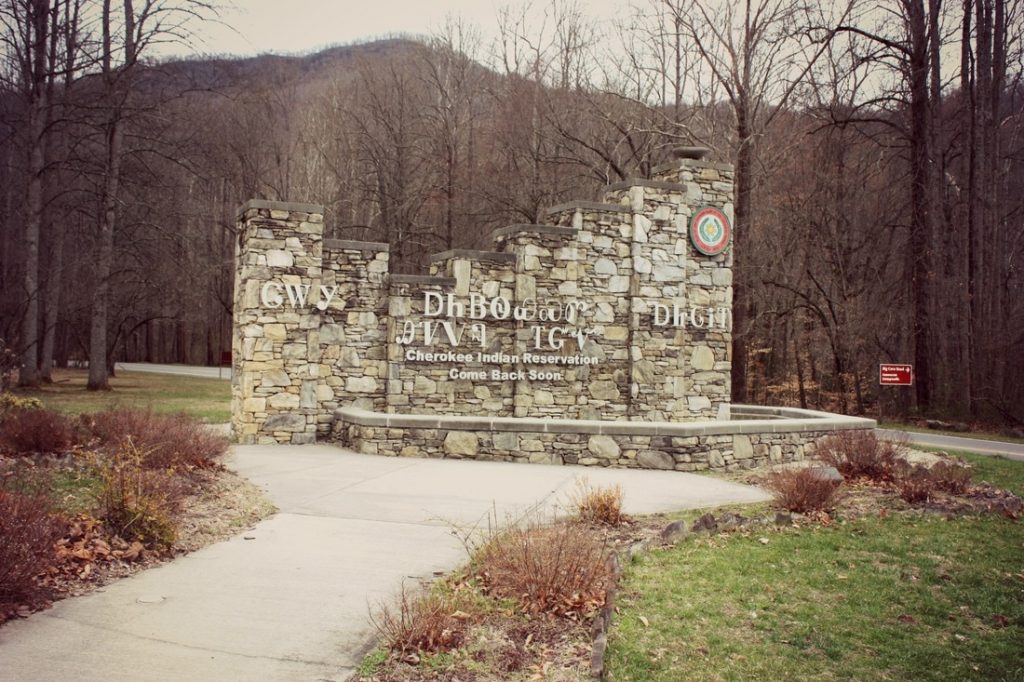 Newfound Gap Road Auto Tour to Cherokee, NC
As we started on our hour drive through the mountains on U.S. 441, the weather was beautiful and clear. We were able to stop several times along the way and take numerous photos of the amazing landscape, as well as the wildfire damage throughout the national park.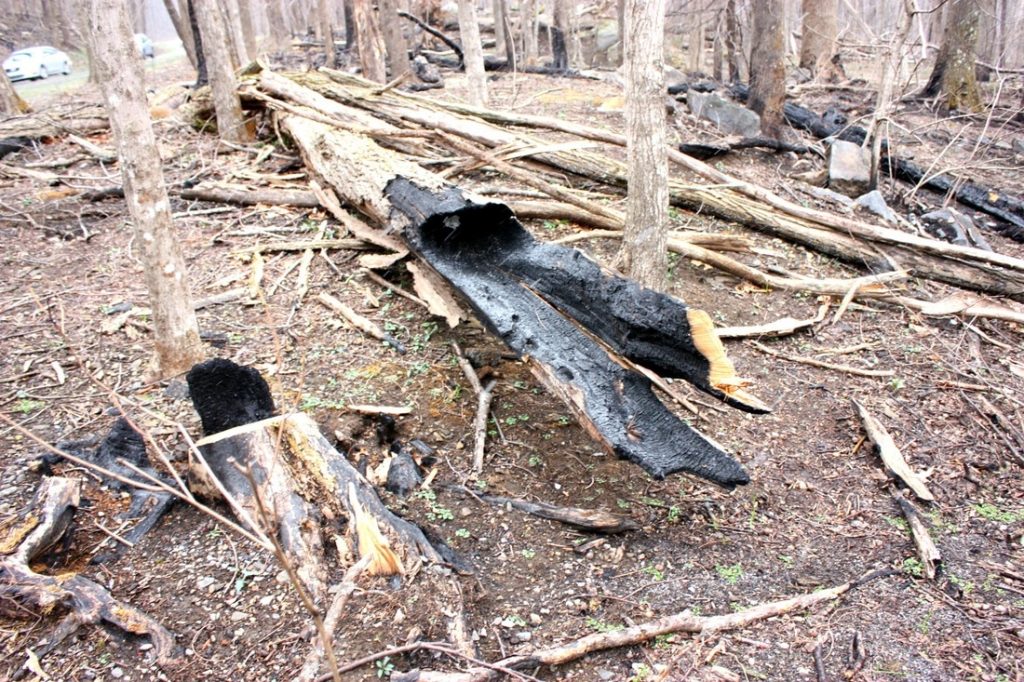 But, as we got closer to Cherokee, the snow began to fall (quickly and heavily) which made for an anxiety-filled drive through the mountains. But, once we reached North Carolina, the snow had stopped and we were able to park and check out a bit of the North Carolina side of the Great Smoky Mountains.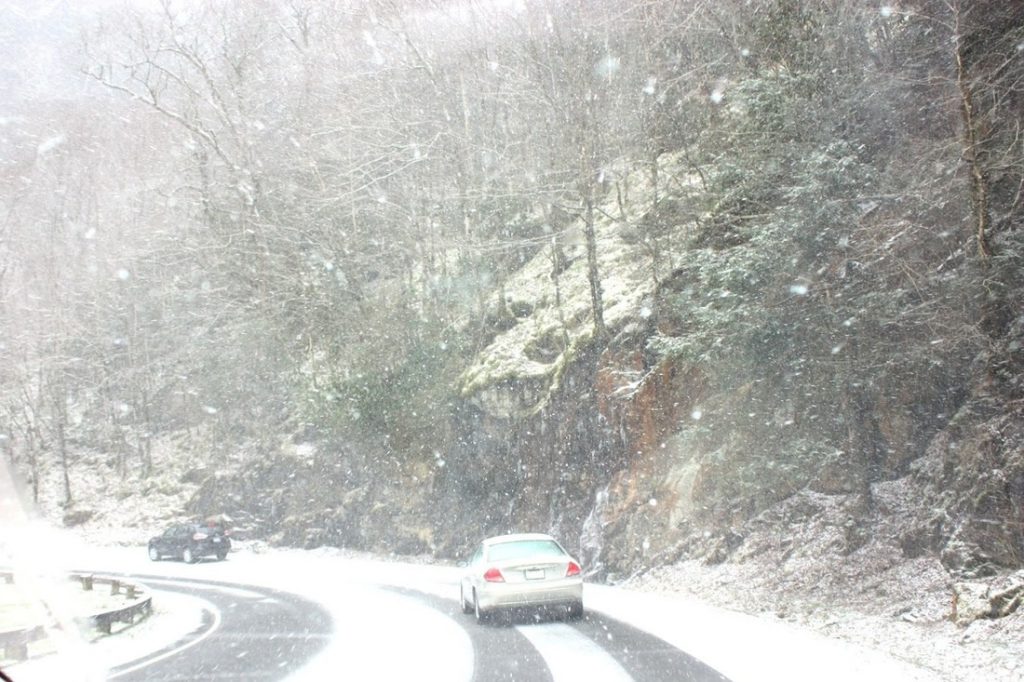 My original plan was to get a photo of the boys at the elevation sign with their feet in both Tennessee and North Carolina at the same time. But, for some reason, I just could not locate the sign, so that photo op is nonexistent. Instead, we stopped at the Visitor Center on the Cherokee Reservation and explored more of what the Smoky Mountains had in store.
​Once we were done, we headed back through the mountains towards the Tennessee side to explore the Old Mill District.​​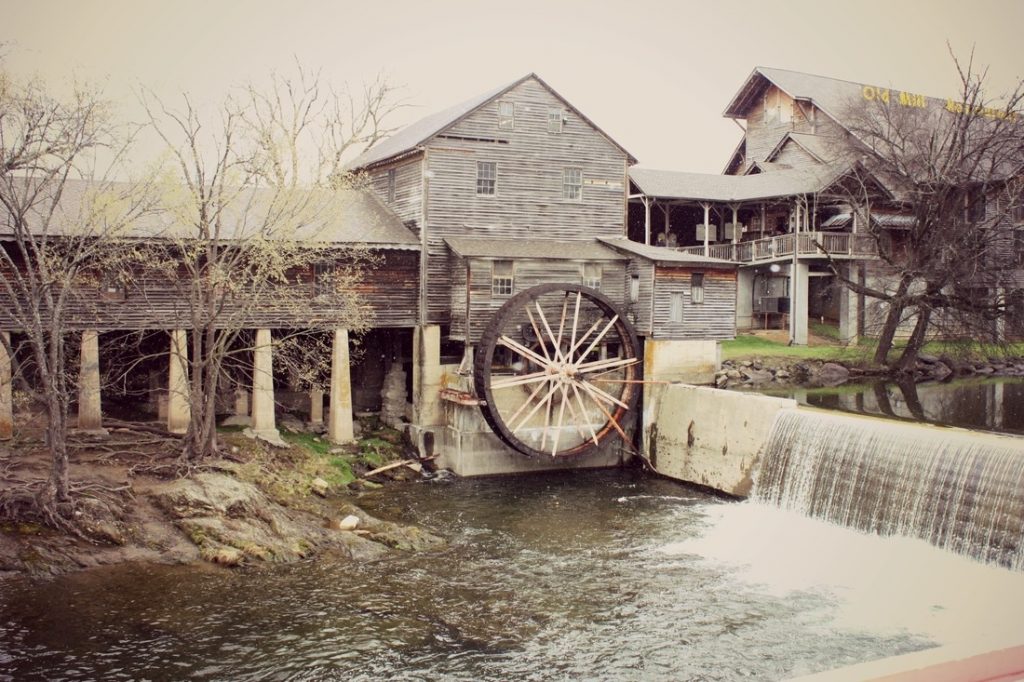 The Old Mill District, Established in 1830
If you remember from the previous post, the plan was to take a guided tour through the Old Mill General Store. But, once we finally arrived, we found out that there were no guided tours until April.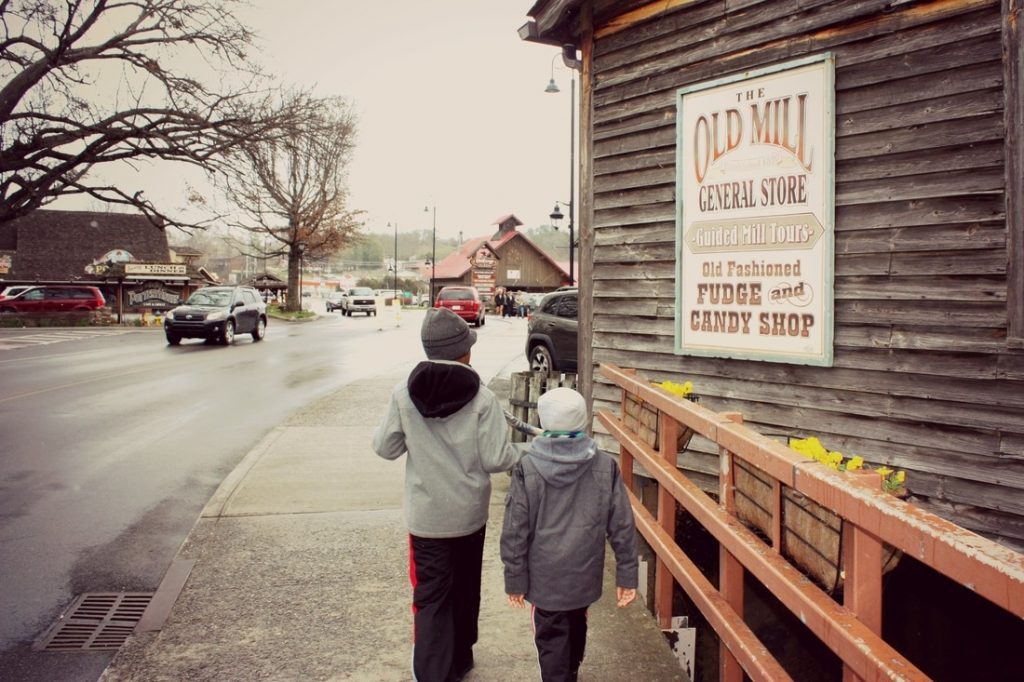 Instead of being bummed out, I bought me a souvenir penny like I always do and let the boys pick out a few, flavored honey-sticks before headed off to explore more of the Old Mill District.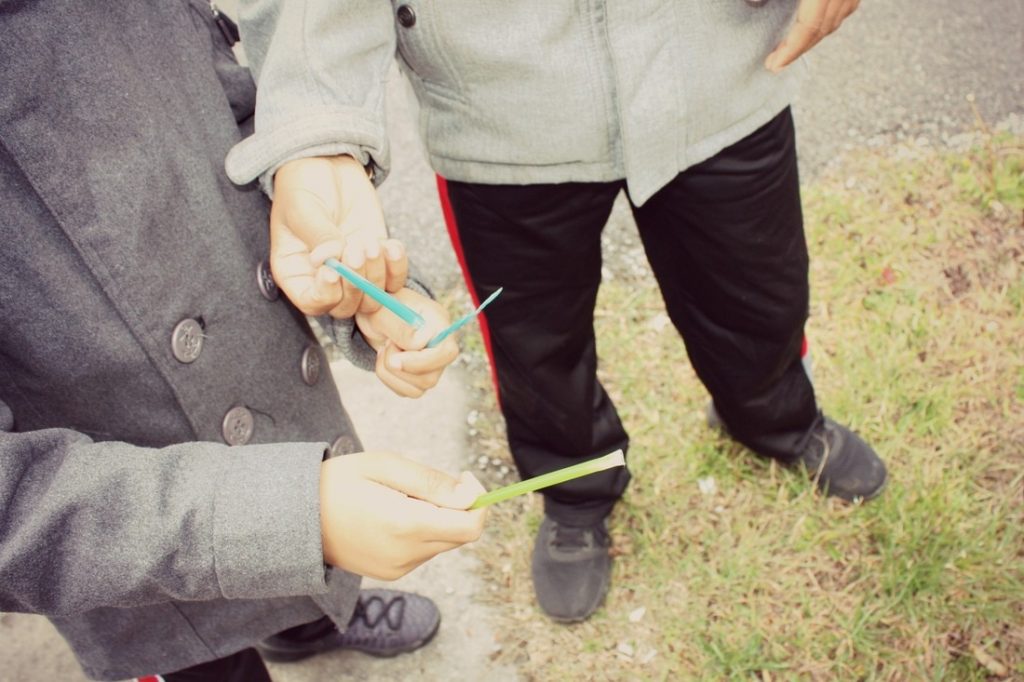 After our sight-seeing of the Old Mill District concluded, we headed up the Pigeon Forge Parkway strip to see what else was nearby. And, who would have guess that the boys would have found another arcade?!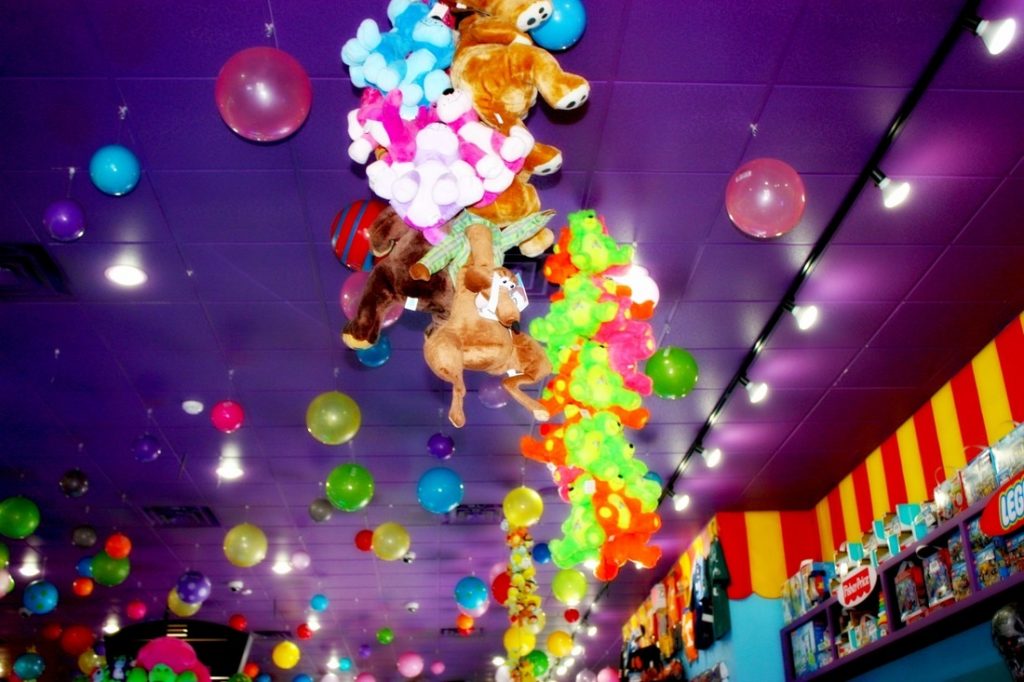 After running out of money on their electronic arcade cards and spending their winnings on Tootsie Roll midgets, I was ready to head back to the mountains and take the scenic drive through Cades Cove (with the intentions of seeing an elk or bear).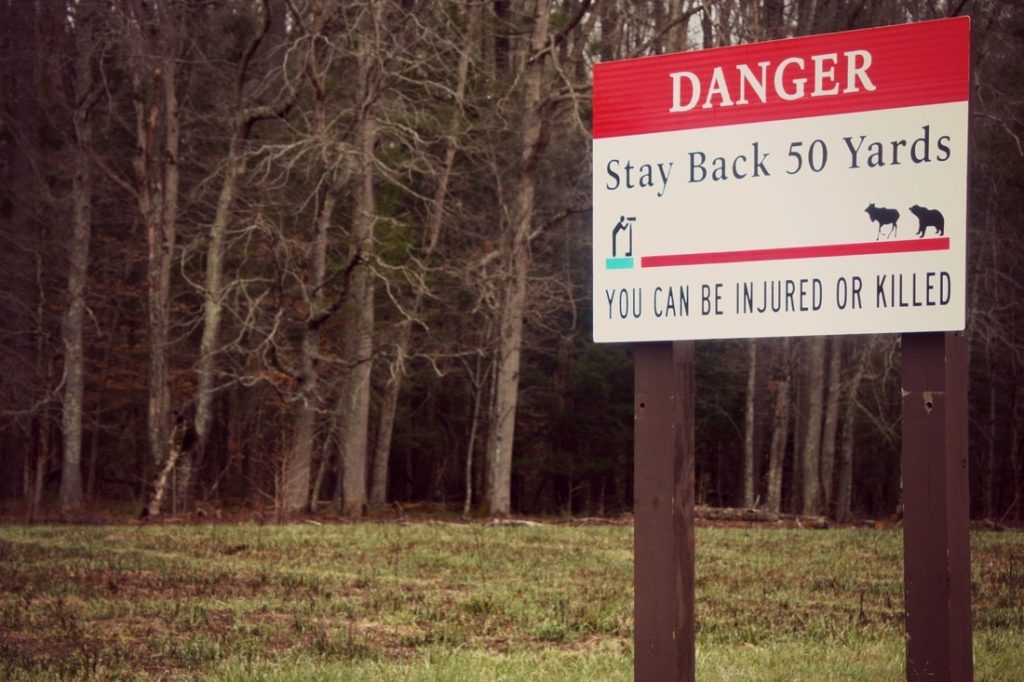 Cades Cove 11-Mile, One-Way Loop
After another hour drive through the mountains, we finally reached Cades Cove. Cades Cove is a flat valley that rests between the mountains and ridges of the national park.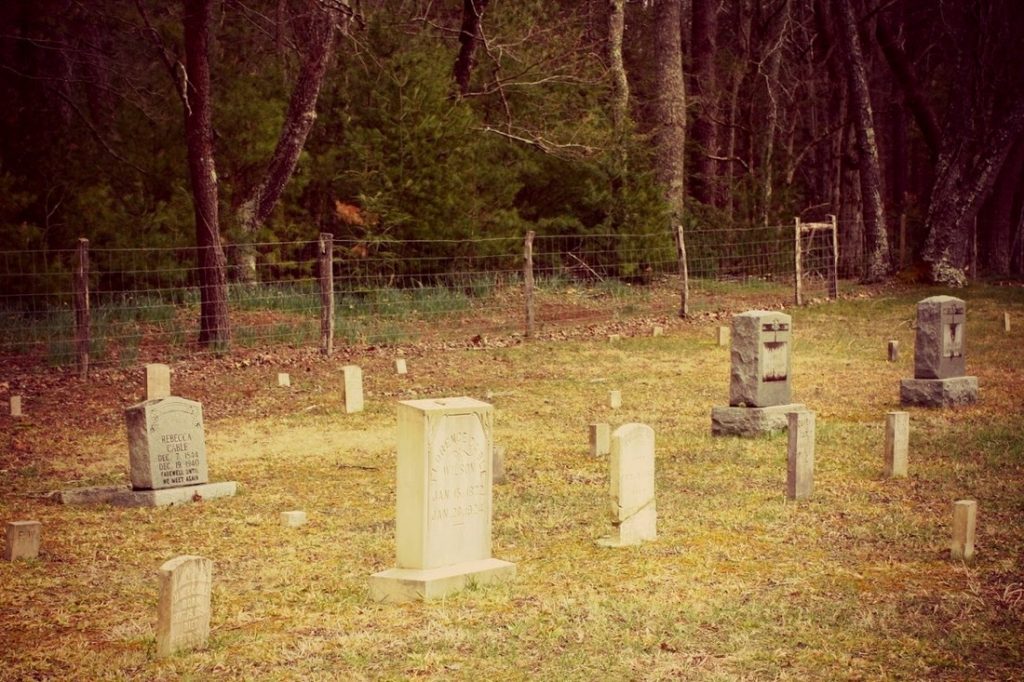 The scenery was absolutely gorgeous and worth the drive even though we didn't spot not one elk nor bear. However, I did stop to check out this crow (or, raven) and interesting-looking, 1800's historic cemetery.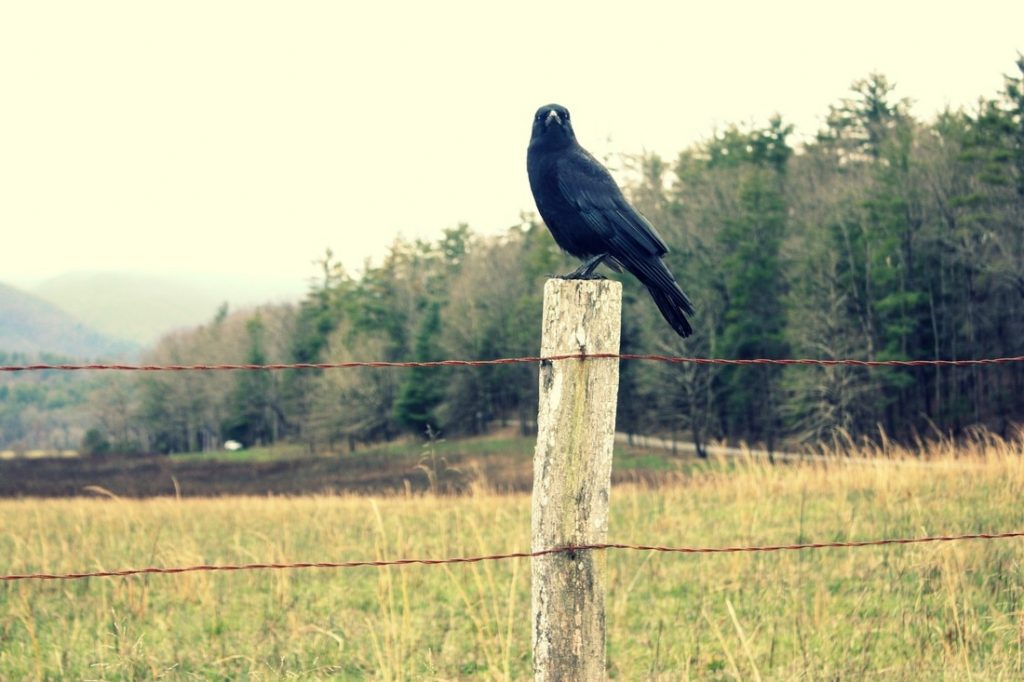 After exiting Cades Cove at dusk, we headed back to Pigeon Forge to grab some dinner and relax in our room.
Ice Cream in the Arcade – Late Night
After relaxing for about an hour, I decided we we would get out and get some fresh air (plus, I wanted an ice cream cone). We walked the strip (again) for awhile until we stumbled upon an arcade and ice cream parlor all in one. (Who would have thought?)
So, of course, we went in so that the boys could play a few games while I enjoyed a few, good scoops of much needed,  yummy ice cream.
​ By the time, the boys' electronic arcade cards read "zero balance" – my ice cream was gone and it was time to head back to the room for some much needed sleep so that we could head home first thing in the morning. – Which we did.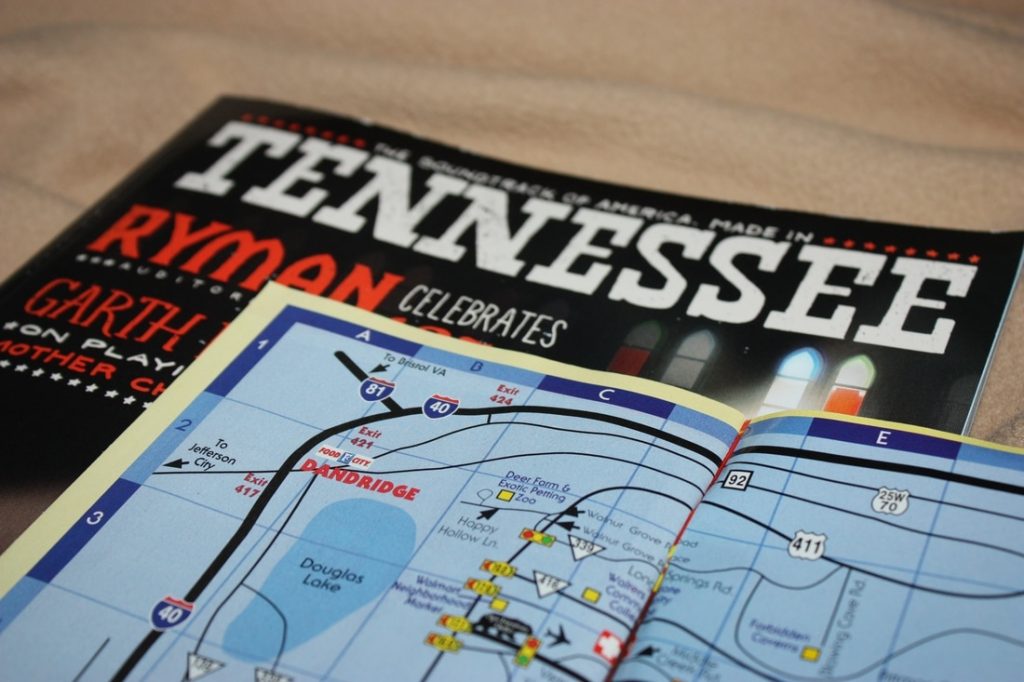 What a jammed packed weekend at the Smokies! I am still holding on to so many amazing pictures that I want to share, so next month, when our travels are on a "pause", I'll be sharing more of the photos from this trip. 
But, wait! – What are your thoughts about visiting the Smokies during the month of March with all of that snow?